What's new? Time for a Hubdate
20 Feb 2023 in News
---
Our ongoing mission is to help Infinity clients understand their customers, make smarter use of their budgets, and enjoy a smooth experience while doing so.
We're only a couple of months into 2023 and (if you don't mind us saying) we think we've made a pretty good start. There's much more in the pipeline, but we wanted to share some of the new ways Infinity is working harder for you.
Following a period of substantial updates to our Conversation Analytics platform, we have spent some time refining the day-to-day experience for call tracking uses and Smart Match clients. Take a look at some of the latest goodies available today in the Hub.
Fixed numbers: Bulk edit
Previously, if you wished to change channel or campaign on multiple fixed numbers you would have to do it manually. However, as we have seen this use case greatly grow in importance we have reacted.
You are now able to bulk edit up to 10,000 fixed numbers at once.
For example, if you have 1000 phone numbers assigned to your Winter catalogue campaign then you can swiftly assign them to your Summer one once the weather starts to get warmer again.
What this means for you: If you ran, or are looking to run, campaigns using a large amount of fixed numbers, this will save you many hours.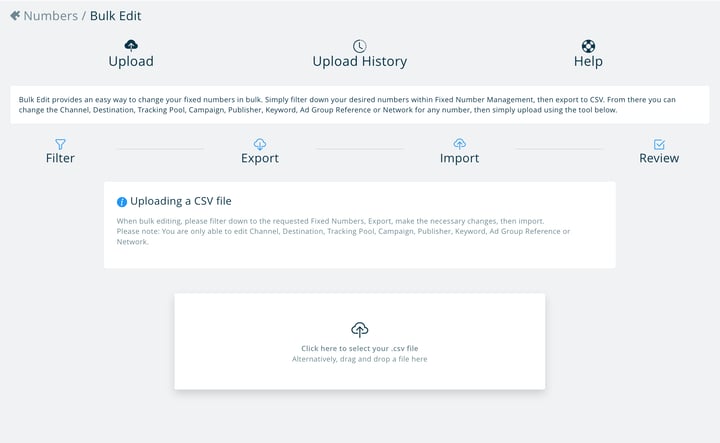 Fixed numbers: Have they been called?
You may know that people are calling you from some of your fixed numbers, but are there any numbers that aren't getting much traction?
In our Hub you will now be able to easily see which fixed numbers haven't received any calls, indicating which ones are being used in ineffective channels, haven't been displayed properly, or are ripe for using elsewhere.
Out bulk editing also means you can quickly round up these numbers and reassign them to another channel in seconds.
What this means for you: If a phone number isn't getting called is that channel working? Do you need to rethink how it fits into the customer journey, or should you focus your investment elsewhere? This will help you answer these key efficiency questions.
Fixed numbers: Calls in the last 30 days
Another new metric is how many times a fixed number has been called in the last 30 days.
Is it one that's lighting up your switchboard, or is it one that's only getting minimal traction? Again, all of this helps give context that will help you deliver more of the moments that matter.
What this means for you: Get a quick view on what fixed numbers are driving the most calls without lots of manual work, helping you make smarter tactical decisions with your marketing activities faster.
ISO 27001: Certified
Infinity has recently received our ISO/IEC 27001:2013 certification.
This shows that Infinity provides maximum protection of customer data against ever-present threats such as cybercrime, personal data breaches, fire/damage, misuse, and viral attacks. Many rigorous tests were conducted on our technological infrastructure, operating procedures, and offices to ensure we meet the exceptionally high standards required of this certification.
"Given the type of data we deal with, Infinity has always been cautious with customer data. This certification proves that we have been following the right processes and procedures. We did not have to invent new processes, but just document what we have already been doing as company for many years."
Wilfred Mathanraj | VP of Engineering & Pre-Sales Engineering, Infinity
What this means for you: Further proof you are working with a trustworthy, transparent company that has a strong focus on risk management and protecting customer data.
Smart Match
-
Save Data Mapping
Many Infinity clients are already seeing significant benefits from understanding what's leading to revenue and call outcomes – see how Southern Sheeting used it to boost their average order value from PPC by 26%.
Our latest update will help clients achieve these results with greater efficiency by automating regular data uploads using a secure file transfer protocol (SFTP) or directly into the Hub. Most of our clients use the same data set and manually upload it each time, the newly added saved mapping means it's quicker and easier than ever.
Once set up, this will connect the bottom-line-boosting details of your calls to their source without you having to do any regular data maintenance, leaving you to focus on analysing the data to deliver results.
What this means for you: Substantial long-term time saving for regular users of Smart Match.
Keyword Packs – Insurance and Travel
Back in June, we announced our keyword packs. These are sets of out-the-box keyword group templates in our Conversation Analytics suite, focused on a specific theme or set of outcomes.
They have been honed and refined across millions of calls, saving you an enormous amount of trial and error. They're the secret weapon of our award-winning Insights & Intelligence team, who not only build them but regularly use them with their clients to deliver value in record time.
We frequently update our existing keyword packs, but we have also added two new industry-specific packs:
Insurance - Identify calls wanting to amend a policy, get a new quote, or renew.




Travel - Pinpoint calls where bookings are being made, as well as ones with common friction points to address.
What this means for you: You can set up your Conversation Analytics suite to capture more useful insights in record time, minimising the amount of tinkering needed to capture key outcomes or moments on your calls.
Migration complete!
Just over a year ago we announced that ResponseTap had become part of Infinity, bringing thousands of accounts on board with them. It was our goal from day one to get both Infinity and ResponseTap clients using the same platform.
The last year has seen a heroic effort from across the company to smoothly migrate all clients big and small to Infinity's Hub in a truly impressive time. In November, the full migration was finally completed and we welcome all of our new Infinity users and look forward to continuing our work together.
What this means for you: This was a mammoth project involving much of our engineering, support, and CX staff. With the project completed, these teams are now primed to develop more products and help clients roll out strategies. In short, we can give you more of what you want, sooner.
In case you missed it…
These updates come hot on the heels of some major launches we have delivered over the last year or so. Here's a couple of highlights to check out:
Agent ID

– Tie every call to the phone agent that handled it, helping individuals perform better
Google Ads

– Track calls that came directly from call extensions, call ads, and location extensions

Facebook & Instagram

– Uncover additional value from your social ads
See something you like? All of the above is covered in our campus, or you could reach out to your Customer Success Manager if you'd like some additional guidance.
Much more to come
We are constantly executing new steps in an ambitious product roadmap, as well as refining the experience we offer. In the last few months, a lot of groundwork has gone on under the hood.
There are plenty of exciting things on our horizon we can't wait to share with you. If you'd like to see more of how we can help improve your customer experience and build a more efficient marketing engine then start a conversation with us today.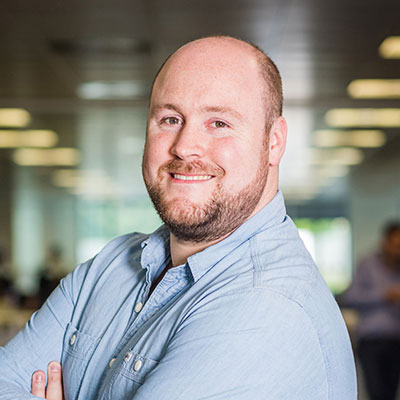 Product Marketing Manager
Andy has spent years obsessively analysing B2B and B2C digital marketing campaigns and technology. Outside of his family, his main loves are Woking FC, his Xbox and his National Trust membership.
Recent posts
8 Jun 2023 in Interviews

May Hubdate: Your Hub just got better, here's how…

8 Jun 2023 in Interviews

Insights & Impact Ep.5: Reducing Average Handling Times (AHT)

8 Jun 2023 in Digital Marketing

The importance of call centre agent coaching
Subscribe to our newsletter *Required field