Unlock your social potential
Every day millions of phone calls are made to brands after clicking on their social ads. These are often for major purchases, big ticket orders, and serious enquiries ready to convert. By connecting these top-tier customers to your social activity, you can optimise future campaigns for more.
See call goals
in Facebook Ads
Not only can you see the calls your Facebook and Instagram campaigns led to, but any goals that you record in Infinity. This could be the outcome of a call, an amount of revenue, or a specific keyword mentioned on the call.
Target high value buyers
Lookalike audiences will enable you to target other users who are similar to those who have already called you for significant purchases. Increase your average order value and return on advertising spend by targeting those most likely to convert over the phone.
Insights to trust,
wherever you are
Infinity's unmatched data accuracy is combined with Facebook's latest Conversions API for long term stability and reliability. We are the only EMEA call tracking provider to work with Facebook's Conversions API, alongside providing call tracking services to an unparalleled 75+ countries.
Easy set-up
In a few short steps, any Infinity client can start tracking calls from their paid social activity in a matter of minutes.
Contact us today to find out how you can create more effective social campaigns that attract more high value orders.

When you work with a Facebook Marketing Partner, you know you are using an elite provider who has passed rigorous inspection by Facebook and clients. Infinity has met these high standards, and has direct access to partner-specific resources and support from Facebook.
Key benefits
Close enormous attribution gaps for top customers
Connect paid social clicks to offline calls
Reduce overall CPA of campaigns
Available for both Facebook and Instagram
FREE with pro and enterprise accounts

"Setting things up via
Facebook's Conversions API is straightforward, and the
overall integration helps
us make smarter decisions"
Joe Reid
Paid Media Manager, Digital NRG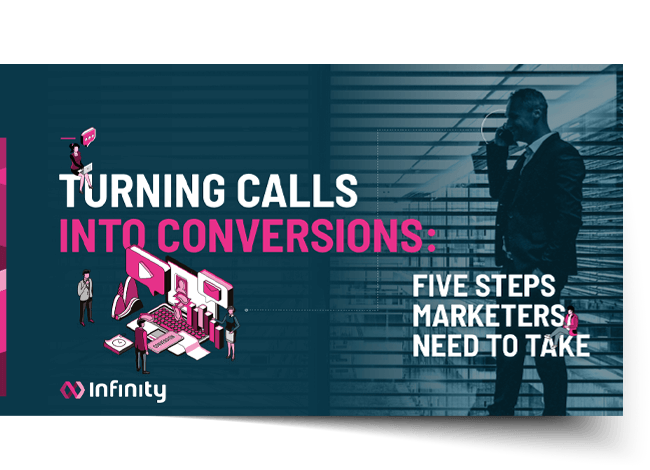 e
Books
Turning calls into conversions:
Five steps marketers need to take
It's no point driving traffic and phone calls if you aren't converting them.
Here's five smart tips, with examples, on how to do that.
Read the eBook
Call us today on +44 33 3060 0118 to discuss the right package for your business or complete the form and we'll call you back.