Discover the difference
Every conversation matters, Infinity highlights what mattered in every conversation.
Our Conversation Analytics platform masterfully picks out the calls with the terms, transactions, and outcomes that you care about and learn how to repeat successful results.
Save hours of manual listening by setting up scorecards to measure what matters to you, as well as immediately surfacing calls based on outcome, keywords, and agent.
Find out what made the difference? You'll find it here.
Close quicker, larger deals
Meet your sales reps' new best friend. Infinity empowers smarter selling with up-to-the-second relevant insights.
Stay several steps ahead by understanding the context around every conversation to make larger sales, and make them quicker. Where did callers come from? Which offers did they click on? What research have they done?
Crucial, digestible data you won't want to answer the phone without.

Integrating our Infinity data with Salesforce has made it possible to identify the sources responsible for thousands of our patients that we couldn't before.
Sarah Sack
CRM and Business Analytics Manager | Promises Behavioral Health
The information you need,
where you need it
Infinity can be plugged into a wide mix of CRM systems to help automate form filling and provide powerful context to your sales agents.
For example, The Infinity Caller Insight App for Salesforce informs your sales agents of relevant touchpoints on a caller's journey. Such real-time intelligence can help with upselling and reducing call times.
Recording
Every call is a lesson, speed up your learning
Listen to your sales calls, download them, and analyse what leads to success for training purposes.
Catalogued
Find the calls that matter, fast
Automatically organise recorded calls by outcome, at scale. Pinpoint calls that led to sales or mentioned specific keywords in seconds.
Seamless
No fuss for your operators
Infinity requires no extra effort by your phone agents, connect it to your existing systems and let them reap the benefits.
Whisper
Start on the
right foot
Before speaking to the caller, Infinity can quickly inform sales agents what campaign, page, or keyword has led to a call.
Some of the global brands that already track with Infinity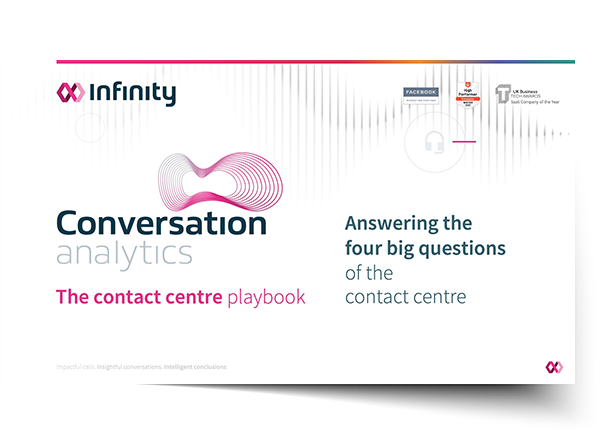 e
Books
The contact center playbook
Answering the four big questions of the contact center
Download the playbooks to uncover how Conversation Analytics can answer some of the most common questions that marketing and contact center teams have.
Read the eBook
Call intelligence can be transformational to your business. Contact us today.
Subscribe to our newsletter *Required field