Infinity launches new GA4 integration beta programme: preparing you for the future today
19 Jul 2022 in Marketing
---
Most of us spend huge parts of our lives planning the future. We'd be in a bit of a pickle if we didn't, right? Like, if you didn't make plans for your holiday abroad, for example, you'd be in a tight spot when it comes to the day of your flight and you realise your passport is out of date, you haven't packed and you've no idea where you're going to stay.
Or let's look at it from a different angle: remember racing to the shops to stockpile loo roll? Yep. (a much wider issue), but that had a lot to do with not having the opportunity to plan ahead. So, what's my point?
Well, in the words of Bob Dylan, "The Times They Are A-Changin" – and these are changes that every marketer can (and should) be planning for…
From the 1st of July 2023, Google are preparing to bid farewell to Universal Analytics, because the next generation of analytics is here - and it's a lot more flexible, intelligent and it's based on AI and machine learning to boot…. it's Google Analytics 4 (or GA4).
Infinity have launched the beta programme for our GA4 integration, so our customers can plan for the future, stay ahead of the curve and get the most out of GA4's new features now. So, while others might wait until they're forced to switch, our customers can prepare now, and get a head start with tapping into all the extra insights available.
Sure, July 2023 may seem like a long time away, but making the switch now means you'll be able to run Google Analytics 4 and Universal Analytics together, giving you more data to view for a side-by-side comparison before the curtain drops on Universal Analytics for good.
You'll also be giving yourself plenty of time to get comfortable with GA4 and master the new features and interface.
It's Google Jim, but not as we know it…
As with any change, (and quite rightly) you'll want to know exactly how it'll impact you, so let me take you on a brief tour through some of the most common questions that marketers are asking about Google Analytics 4.
Universal Analytics and Google Analytics 4 - what's the difference?
The main difference is that Universal Analytics is web focused, while GA4 ties together and tracks consumer behaviour across mobile, desktop, and apps.
Universal Analytics started with a simple data model, letting you track page views as 'hits' to a tracking server, creating a page-by-page log similar to the web server log itself. To simplify reporting, Google added a Session object to keep track of some session-level things, like the landing page, the referral source, or the total time on site.
But it's since become clear that people didn't just view web pages, they interacted with different things on the page. Social networks needed their own type of hit. eCommerce got more complicated and needed its own type of hit.
People found themselves shoehorning these different hits into their reports and the data was getting a little foggy and Google realised they needed a way for a different type of 'hit' to be captured and recorded. A tailored, more customised report was the only thing that was going to crack this issue.
GA4 shows you exactly how people are interacting with different application screens or pages on your website, giving you a complete picture of how your site is performing. It also has new UI, new reports, and new ways of collecting the data that's most important to you. These new features give you the intel on those burning questions that keep many a marketer awake at night, such as:
Which channels, campaigns and activities are driving sales and generating leads?

What's really influencing potential customers to click the 'install' button on my business' apps?

What are the activities that are connecting online and offline customer engagement?

How successful are my form fills?

How many customers are hitting 'Download'? Is my video content performing well?


With GA4, your world of insights gets a lot more granular and gives you deeper intel about your users and their journeys.
Will I still get to view, track and measure my call data in GA4?
Too right you will! We want to make it easy for you to get the most out of GA4 and your call data. As a Google partner, your call data will integrate with GA4 so you can see all the insights from your calls in the new platform. You'll be able to effortlessly track the full visitor journey and get even more granular intel on when your customers pick up the phone to you. You'll understand which campaigns, channels and keywords are driving those valuable calls and generating sales, so whether you're looking to reduce cost or increase revenue, the data you gather from our Call tracking and Conversation Analytics technology will send call and goal actions into your GA4 account, giving you deeper insights into how your campaigns are performing.
You'll also be able to measure the number of important business actions customers complete (Goal Conversions). Infinity's integration with GA4 will help you close the loop on your online and offline data to gain a full view of the customer journey, uncovering a more detailed view of the online actions driving valuable phone call conversions - so you can make every penny count. So why wait? Start a conversation with us and we'll show you how easy it is to get set up.
In the meantime, let's explore a few other GA4 features that we think will be music to every marketers' ears…
What is GA4's Analytics Intelligence?
Here's a feature that uses machine learning and configurable conditions to give you small clues and findings based on the collected data. For example, it might show you the channel that brought in some serious revenue last month or it might reveal a sudden drop in revenue from a different channel. With this intel, you can quickly see, understand and take action on your data.
So you get two types of insights with Analytics Intelligence:
Automated insights –

this

detects unusual changes or trends in your data and automatically lets you know.

Custom insights -

you create the conditions that detect the changes in your data that matter to you.



How will GA4 Explorations benefit me?
If you're a marketer, it's very likely that you'll want to spend a lot of your time in GA4's Explorations. It's the sure-fire way to get up close and personal with your customers. Take advantage of Explorations and get a good grasp of your customer journeys, get complex questions answered about your customers' behaviours, spot trends and explore your data in greater depth.
When it comes to GA4, Exploration reports are much more flexible than Universal Analytics; it lets you see your data from lots of different angles. We're going to highlight just a few of these analytical techniques that we know marketers will be eager to get their hands on…
Funnel exploration lets you visualise the various steps a customer takes before making a purchase. With this technique, you can easily see the steps of the buying journey that aren't working so well or that are performing better than you expected. You can then use that data to either re-evaluate your tactics to drive customers to the next step in their purchase journey or congratulate yourself and keep doing what you're doing!
The User exploration technique examines specific groups of users and lets you drill down into each individual user's activities when they're on your site or app. Who moved all the way to the shopping cart, but didn't make a purchase? Were there any issues on the site? How can you improve the checkout process?
I'll leave you on the User lifetime technique which gives marketers an overall view of your customers time interacting with your site or app. User lifetime analyses user behaviour and their value over the lifetime as your customer. Which channel drove users with the highest lifetime revenue? Which campaigns are acquiring high-value users with lower churn probability?
Marketers, with Explorations in GA4, you can now get hold of the insights to help you answer these complex (and revenue-critical) questions.
What about cookies and data privacy?
Working to stringent privacy regulations has been a bit of a tightrope walk for marketers and data analysts. With the phase out of third-party cookies, a lot of valuable customer data is being lost. Plus, your existing tech's privacy controls are probably leaving much to be desired. But cookies are crumbling all over the web now - and it's getting messy.
Your brand will be under a load of scrutiny on how you're using data, and if your privacy controls aren't tighter than Fort Knox itself you'll need a way to deliver experiences that'll have your customers eating out of your hand, without the worry of breaching their privacy (or incurring eye-wateringly high government fines).
That's another huge reason for Google Analytics 4 – 'privacy' is its middle name. You can rely on it even as government regulations change – cookie or no cookie. GA4 has more 'Fort Knox' level controls for data collection and usage than Universal Analytics - and it won't store IP addresses. With your customers expecting more protection and control over their data than ever before, switching to GA4 and putting user data on lockdown now is a no-brainer.
You've made a strong case for getting a head start with GA4 – what's the next step for me?
An excellent choice! If you're already an Infinity client, speak to your Customer Success Manager or drop us an email at success@infinity.co and we'll help get you set up.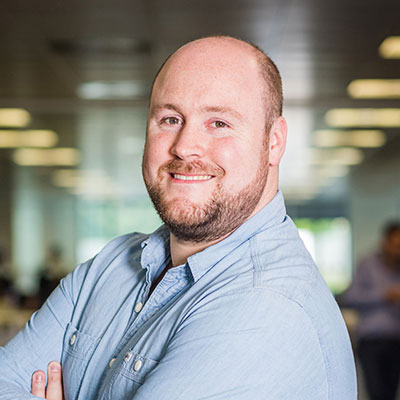 Product Marketing Manager
Andy has spent years obsessively analysing B2B and B2C digital marketing campaigns and technology. Outside of his family, his main loves are Woking FC, his Xbox and his National Trust membership.
Recent posts
15 Mar 2023 in Marketing

How to track and reduce average wait times in your call centre

14 Mar 2023 in News

A match made in heaven: How call data and GA4 will supercharge your understanding of customer journeys

8 Mar 2023 in Marketing

4 tactics to increase average order value in your call centre
Subscribe to our newsletter *Required field