8 call recording insights your business may be missing
3 Sep 2019 in Digital Marketing
---
Aside from the obvious benefits of training and quality assurance, there are numerous insights held within business call recordings that marketing and sales departments alike can use.
At Infinity, we consider automatic call recording to be a valuable contributor to a business's success. Its wealth of potential insights can improve a customer's experience and your employees, and even inform the company's overall strategy.
Here's a selection of eight practical insights from business call recording software that we've learnt over the years.
Business call recordings tell you what really matters
A phone call between one of your employees and customers should focus on solving their queries and creating a great experience. If your phone agents are frantically scribbling down valuable information from their conversation, their attention is divided and the quality of the call is compromised.
Call recording systems take the pressure off phone agents and allow them to do what they do best. It grants them the security of knowing they can always check back on a recording should they need clarification as to how best to resolve a customer's query, all the while still giving their conversation 100% undivided attention.
Reveal who your customers are
According to ITSMA, a buyer is 48% more likely to convert with a company that personalises their marketing towards them1. Whilst there are many ways to build customer personas, one way that's often overlooked is call recordings for business.
Business call recordings offer a wealth of insights into customer preferences, likes, dislikes, and quirks. What's often said during a phone call is less open to misinterpretation and is sometimes more revealing about a person's true identity than what could be typed into an email.
Marketing departments who listen back on successful calls to the business can start to unravel the mystery of who exactly they're talking to. Thus, positioning them one step ahead of their competitors when it comes to personalising their messages.
What's hot? What's not?
It's easy to become a master of merchandising by using digital tools to monitor what's selling and what isn't. But, what happens if your business also sells via the phone? How can you monitor what's being mentioned the most? What do customers feel about certain products? What do they tell you about your competitors?
Tools such as Infinity's Conversation Analytics suite can autonomously spot keywords mentioned in your business's recorded calls.
For instance, just say you're a travel specialist who wants to know how many people mentioned "Toronto" in their calls. From the moment Conversation Analytics is installed, it can find all calls that mention specific keywords. Saving you time and getting you the facts faster than ever before.
Discover best practice
A fundamental advantage of a call recording system is its ability to help a business learn what's best practice over the telephone.
Past recordings of calls that may not have been successful can be replayed as feedback to phone agents who may need extra support in their approach to service.
Highly successful calls can be recorded and played to new recruits to demonstrate exactly what top-notch service looks like. This would accelerate training time, ramp your reps up to hitting their targets quicker, and elevate service standards moving forwards.
Give your IT department the heads up
If customers call your business because they're unable to access your website, or a particular page, then this gives your IT department a heads up that something needs fixing or that people are struggling with the UX you are offering.
Not only this, but the call recordings which mention a site fault could be grouped together to see what the main problems were on a yearly, monthly, or even daily basis. Moving forward, IT teams could work to prevent these particular parts of the site from under performing.
Prevent she said, he said
Whether you operate in-store, online, or just via phone, customer complaints are inevitable. You'll never be everyone's cup of tea all the time. What matters is finding a resolution based on the facts your agent's been given.
Should a customer not give you the "whole picture", business call recordings can take away all of the guesswork. An agent can easily listen back to the recording to see what was said during the initial interaction and reiterate this to the customer, should the complaint begin to turn sour.
By providing evidence of what the customer initially said, the agent can justify why they proceeded with their actions to help resolve the complaint. Eliminating this type of controversy is indisputably a huge benefit of business call recordings.
Qualify the right leads
A study commissioned by Aberdeen Research found that companies who cohesively align their sales and marketing teams can experience a 20% increase in annual growth per year2. Whilst there are many ways to form such a harmonious relationship, business phone recordings can also play a part in doing so.
Call recording software enables both teams to listen to successful qualifying lead calls together. The recordings can then provide a stable foundation for what both teams consider as a "qualified" lead, leaving no room for mixed opinions or interpretations.
Once this agreement is in place, both the marketing and sales team can qualify leads swiftly and with no hesitation, resulting in a seamless process built for the business.
View the entire customer journey
Another business call recording benefit is the ability to provide historical data.
A customer may require assistance from your company on multiple occasions. This could be once a month, year, or even longer. By storing call recordings alongside CRM data, your agents are able to view the customers entire journey whenever they ring in.
Let's say your business operates in the automotive industry. In 2018, a customer could call you to book a test drive with a new model of car. The customer could end up purchasing the car, but may have to call you soon after to report a fault. Should the customer call back in 6 months time to report the same issue with the car, the call recording will enable you to see the issues the customer has had in the past and whether or not it's related to their current one.
A complete view of the customer journey is pivotal to creating long-lasting relationships with your target customers.
End of the line
Your customers may see call recordings as a legal technicality you're forced to insert into your welcome message, but what remains true is that they're not just for training or quality purposes. The plethora of insights they hold is unquestionable for any business looking to gain the full picture of their strategy. Call recordings are a useful asset to any business who sells, talks, or even offers phone communication.
Infinity offers this, and more, through its sophisticated call intelligence platform. Call recording comes as standard for Infinity users, with calls saved for a month at no additional cost (longer storage options available). Available for small to enterprise businesses, start a conversation with us today to see how we can help you achieve your goals.
References
1.ITSMA's personalisation conversion rate, ITSMA, (2014)
2.Aberdeen Group divide of sales and marketing, Aberdeen, (2018)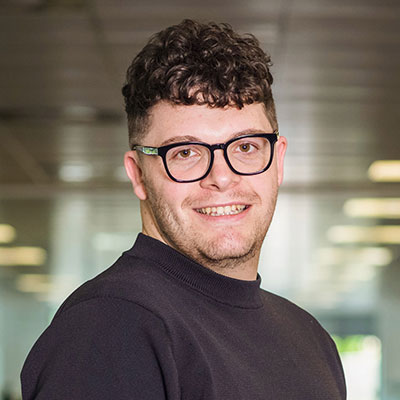 Copywriter
Alex is a digital expert specialising in creating copy that engages, entices, and excites our clients. Usually found poring over past issues of Vogue and playing paparazzi to his dogs.
Recent posts
25 May 2023 in Interviews

Insights & Impact Ep.5: Reducing Average Handling Times (AHT)

24 May 2023 in Interviews

May Hubdate: Your Hub just got better, here's how…

17 May 2023 in Digital Marketing

Driving customer conversions with call intelligence
Subscribe to our newsletter *Required field