Average sales close rates by industry: What's a good ratio?
15 Feb 2023 in News
---
In an increasingly uncertain and competitive environment, sales and marketing teams are feeling the pressure to deliver more profit with less budget. You work hard on building a healthy pipeline, but do you know how many of those leads are successfully converting into satisfied customers?
Shockingly, only 22% of businesses are satisfied with their conversion rates. If you want to get better at converting leads, you need to pay attention to your sales closing rate. This metric is one of the most vital ways of monitoring the efficiency of your individual agents and your overall sales efforts.
In this blog, we'll explain what a close rate is and how to calculate it, we'll explore average sales close rates by industry, and we'll share ways to improve your sales close rate.
What is a sales closing rate?
Sales closing rate, also known as a closing rate, shows the percentage of leads that become customers. It's one of the primary metrics in determining the effectiveness of your agents and their ability to sell. Sales close rate is a valuable key performance indicator (KPI) for your team, it can answer questions such as:
How effective is your lead generation?
How healthy is your overall sales pipeline?
How efficient are your agents at closing sales?
How many leads need to be converted?
If you understand your sales close rate, you can focus your attention on creating realistic targets for your sales team and working on improving your ability to convert.
How is sales close rate calculated?
If you want to set yourself a sales close rate benchmark to work toward, you need to know your starting point. To calculate your sales close rate, you need to collect a couple of important numbers.
First, you need to figure out the total amount of sales or deals you closed over a period of time, for example, you might decide to focus on one quarter. Then, you need the total number of leads that were generated over the same time period.
Once you have these two numbers, you can calculate your sales close rate using the following formula.
(Closed deals /Total leads) x 100 = [Close rate]%
For example, let's say you sell stationary to companies. Over the last three months, you were able to generate 100 new leads. Of those 100 leads, you were able to convert 30 of them. To get your average sales closing rate, you would divide 30 by 100, then multiply by 100. This would give you a closing rate percentage of 30%.
What is the average close rate in sales?

According to Hubspot, the average sales close rate varies quite a bit across all industries. For instance, the software industry has an average close rate of 22% compared to just 15% for the biotech industry. But what about a sales close rate by industry? The below table outlines this information.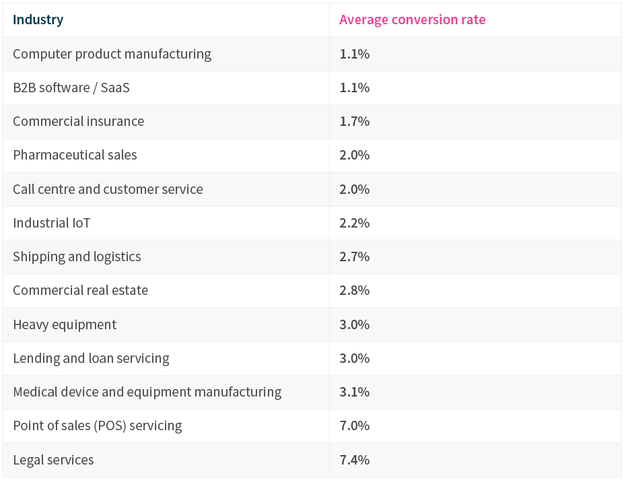 Source: SmartWinnr
Why is closing phone sales important for your business?
With so many ways for customers to make purchases these days, why are phone calls – and specifically sales – important? It's all about the personal touch. 86% of customers prefer to speak to an actual person and interestingly, just over 70% say that they're less likely to do business with a company that doesn't have human call centre agents available.
Every time a potential customer picks up the phone, you've got an opportunity to convert. Closing sales over the phone allows you to address concerns in real-time, identify opportunities to cross-sell or upsell, and best of all, assess the performance of your agents to provide better training and deliver more value for your customers.
How to improve your sales close rate
Give your agents best-in-class scripts
Every contact centre leader dreams of building a team of high-flying agents capable of reducing average handling times, boosting conversion rates and consistently hitting quarterly revenue targets. This is important, given that approximately 80% of sales are made by only 8% of your sales representatives. So how can you make everyone a top seller?
Call monitoring can help you engineer more satisfying customer conversations by highlighting common pain points that cause frustration and tailoring your agent scripts to deliver solutions before they escalate. With tools such as Agent ID, you can assess individual agent performance, understand where you could improve the customer experience, and isolate calls that are significantly better at upselling to gather learnings that can be shared across your call centre.
Use insights to improve the customer experience
Customers expect you to anticipate their needs. Using call monitoring software, you can access insights that enable you to identify common pitfalls, transform make-or-break moments into a guaranteed win, and even shine a spotlight on the blind spots in your overall strategy that could help you improve experiences and services.
For example, optician Specsavers receives thousands of calls to book appointments every day. But when a customer moved offline, they had no visibility of which campaigns, channels or keywords encouraged customers to act. Using call analytics, they were able to analyse over 150,000 calls and they noticed a gap in their services for more home visits. They adapted their messaging, and this led to a 25% increase in home visit bookings!
Generate more high-quality leads
If you want to close more sales, you need to understand which channels, keywords, social ads or websites led to your customer to pick up the phone. Call tracking and analytics can help you understand the full customer journey by understanding where your best leads come from and crucially, how you can find more of them.
For example, Flight Centre wanted to focus on the promotion of tailor-made holidays which required in-depth calls with potential leads. To maximise profits, they needed to identify which channels were generating high value calls. Conversation Analytics enabled them to set goals based on location, intent, and even brand words that they marked as high or low value. This led to a 46% year-on-year increase in conversions and a 44% increase in the number of high-value enquiries that led to a booking.
Reduce friction in your customer journey
If you want to improve your sales closing rate, you need to think about reducing friction in the customer journey. Sometimes, this involves using call deflection to make sure your agents are focusing on the most profitable calls. Smart call deflection allows you to pre-empt needs in a way that makes your customers feel cared for, whether they spoke to an agent or not. To do this well, you need to invest in data-driven self-service options.
Speech analytics software such as Conversation Analytics can quickly identify frequently asked questions or simple issues, and you can use this intel to build better FAQ sections on your website. With the smaller issues taken care of, your agents can focus on the most profitable calls and work on improving your sales closing ratio. This also sets the right tone for future interactions and long-term customer retention.
Perfect your objection handling
Call intelligence software can monitor conversations to flag keywords or trends before you're even aware of them and tie these trends to positive or negative call outcomes, so you know what to do more, or less of. This puts you in a unique position to perfect your objection handling, based on thousands of previous customer calls.
Using data from thousands of phone calls that have gone before you, you can tap into insights at scale and analyse how agents have been able to handle objections in the past. What words, phrases, solutions or incentives did they offer transform hesitant or concerned callers into happy customers? This is the kind of information that will help you effortlessly close more phone sales and boost your call centre revenue.
Bonus: Upselling & cross-selling with ease
You know how to close a phone sale, but how do you make each call even more valuable? Successfully upselling and cross-selling is the way forward. According to a recent survey, 77% of call centre agents say they are nearly always able to upsell and cross-sell when resolving support requests.
Internet Gardener may be an award-winning online retailer, but 35% of their orders are placed via phone. Phone calls lead to their highest value orders, as customers require a personal level of service when discussing big-ticket items such as sheds, furniture, and log cabins. They used Infinity to track and record every call that came into their business, showing them what source led to the call and recording revenue per call. They were able to increase their average order value by over 30%!
How call tracking can help you close more sales
Call tracking and speech analytics are a match made in sales heaven. Call tracking can provide real-time data on where calls are coming from, to better understand where and why customers pick up the phone. If you can pinpoint the action that triggers customer calls, you can tailor scripts using high-quality transcripts and deliver training that will drive more successful outcomes.
But a common challenge for call centres is the ability to extract customer insights that can increase sales at scale. With Infinity's Speech analytics suite, Conversation Analytics, your call centres can begin surfacing hidden insights, highlight topics and keywords, and analyse sentiment in every call.
With Conversation Analytics, you can evolve your tactics based on real data from your customers. Being able to identify the finer points of conversation quickly and easily using call categorisation gives you the context and nuance that can be difficult to track when you're handling high volumes of calls.
When you put Conversation Analytics and Agent ID together, you can gain actionable insights in to how engaging the calls coming in, and going out, of your contact centre are. Uncover the best calls to use for training, rapidly upskill your teams and decrease average handling time, all while increasing conversion rates and ensuring that your customers are truly satisfied.
Ready to squeeze every penny out of your contact centre? Start a conversation with us today and pave the way to improved sales close rates.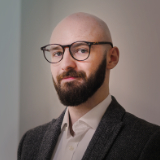 Matt is Head of Brand at Infinity. He has extensive experience helping B2B and B2C brands enhance and manage their reputations, nail their positioning, and launch hard-hitting campaigns through data-driven decision-making.
Recent posts
8 Jun 2023 in Interviews

May Hubdate: Your Hub just got better, here's how…

8 Jun 2023 in Interviews

Insights & Impact Ep.5: Reducing Average Handling Times (AHT)

8 Jun 2023 in Digital Marketing

The importance of call centre agent coaching
Subscribe to our newsletter *Required field