May Hubdate: Your Hub just got better, here's how…
24 May 2023 in Interviews
---
You're never far away from getting more out of Infinity, and we're always looking for new ways to make your data work harder for you.
May isn't just a time of more bank holidays than usual, it's also a time when we've been busy bees behind the scenes. Here's a quick run-through of some of the new releases you can now enjoy in the Hub!
If any of these are of interest and you can't see them in the Hub, just reach out to your customer success manager or email support@infinity.co to get started.
Assisted Channels: Find your difference makers
Any sports fan will tell you it's not just the goal scorer that deserves the praise, the playmakers that contribute to the build-up have infinite value too.
At the flip of a button, you can now see all the calls that a certain channel led to, helping you build a more holistic picture of your customer journeys.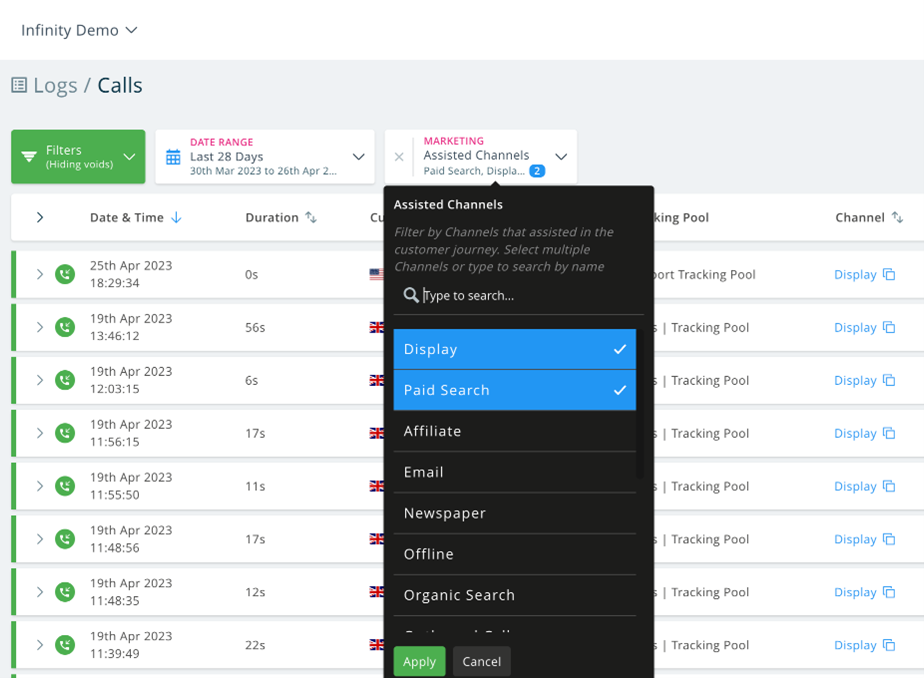 For example, if you think people are clicking one of your ads on social media, then calling you up after visiting you via another channel later, you can now see all the calls where that happened.
What this means for you: Gain a new perspective on how your channels lead to the interactions you care about, and see it at scale. Use this insight to optimise your marketing budget and make smarter decisions at a tactical level about your customer journey.
Get connected with the integrations homepage
Infinity has long led the field in fitting seamlessly with your tech stack, connecting with many other technology platforms.
Getting these connections set up is a crucial early step for many of our clients, so we've been working on a way to make this happen quickly and easily at any time. We introduce our integrations library…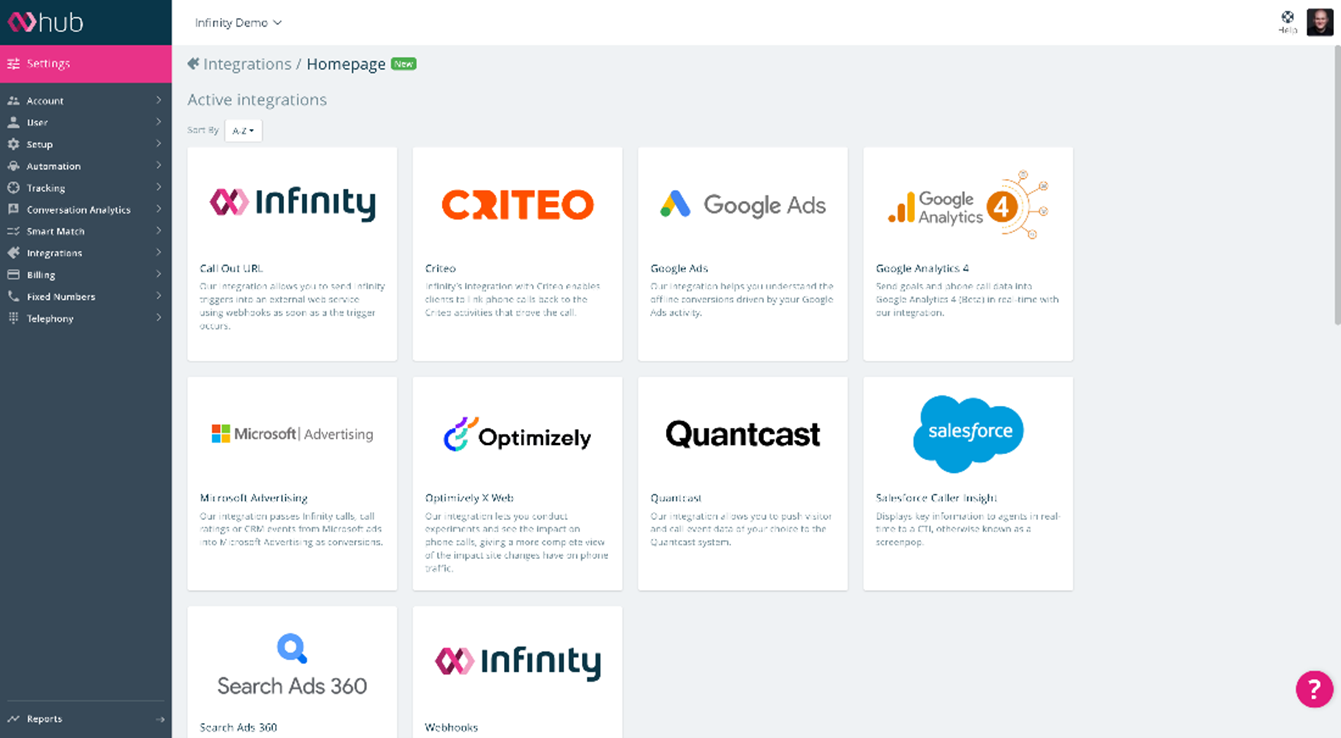 All our integrations are listed here in one place, making it easier for you to crack on with setting them up.
It also shows you at a glance which integrations you have and which you don't, helping you decide what you could potentially set up next.
What this means for you: Find opportunities for connections and improvements across your tech stack far faster than before, and start driving even more efficiencies.
Connect calls and goals to integrations
In the call and goal log you can now see which integrations have been fired by each event.
What this means for you: Understand where Infinity is sending your call and goal data at a glance. Also, you can quickly spot if a call isn't going to an integration when you expect it to, enabling you to swiftly return to full functionality.
Also, connect events to integrations
Every event is now fired into your integrations as its own log. You can also re-trigger an event to go to an integration if it wasn't initially set up correctly.
The correct credentials can be if inputted if originally wrong, so you can find all calls that should have fired and re-fire them. This empowers you to self-recover data into integrations if you find there's something that needs tweaking after you've set it up.
What this means for you: Less need for support when setting up, updating, and maintaining integrations, getting you up and running in record time.
Smart Match in the call log
Smart Match has helped many of our clients understand when their calls have delivered specific outcomes as well as attributing an amount of revenue to them – read our NFU Mutual and Southern Sheeting case study to see the benefits.
The last few months have seen a number of updates to Smart Match to improve ease of use and reduce time to value.
First up is this little icon that makes a big difference. When you see this icon with the two ticks in our call log, it means the call has Smart Match data connected to it, and you can easily click on it to see that data. Previously you would have had to go to the Smart Match log to see that data, so this is a big time-saver.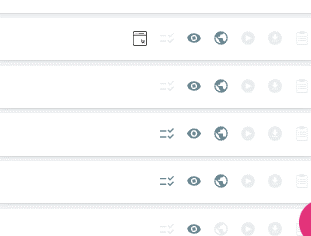 The calls without Smart Match data (such as when a call doesn't include a sale) will have the icon greyed out.
What this means for you: Calls using Smart Match are now surfaced a lot easier elsewhere in the Hub, reducing the time needed to find them which massively simplifies reporting.
More columns for Smart Match
The Smart Match installation can now have additional columns showing transaction values, channels, and campaigns. Previously this information was captured, but you would need to go into the individual calls to see it.
What this means for you: You can see a lot more of this data quicker in the Hub, increasing the efficiency of gathering insights from your data.
Google Analytics 4 Integration Expands
As Google's switch date for their analytics platform looms ever closer, we've seen a rapid increase in the number of clients adopting our Google Analytics 4 integration.
If you'd like to join them, just reach out to your customer success manager or email support@infinity.co to get started.
Knowing what an important platform it is for our clients, we're continually looking at more ways we can surface our data usefully inside it.
Our latest update sends session ID into GA4, improving session-based reporting. Also, you can feed additional parameters such as your callers' location data and browser data into GA4.
What this means for you: A clearer picture of your customer journey in GA4 enabling you to make more informed, data-driven decisions.
Our best keyword packs keep getting better
Our keyword packs are out-of-the-box tools to help you answer specific queries or solve common issues. These ready-made keyword groups for our Conversation Analytics suite have been put together by our in-house Insights & Intelligence team, who use them every day to deliver insight on some of our most frequent use cases and requests.
As audiences, markets, and our own learnings change, we update these keyword packs to keep them pertinent in an evolving world.
Over the last few months we have updated the following keyword packs:
Revenue Protection – Pick out when you have received a request for a price match
Revenue Protection – Find nuances in discussions around budget
Revenue Protection – See when deposit payments were made
Voice of Customer – Are callers asking to speak to a specific agent?
Travel – Learn what holiday types people are calling up about
Travel – See when people are calling about an existing booking
Travel – See when competitors are mentioned on your calls
What this means for you: See even faster time to value when tackling some of the more common hurdles that similar companies face. Also, if you do decide to pick up a keyword pack, you can be confident that it's still a reliable, relevant tool for understanding the challenges you're facing.
Still a leader
We're proud to say that we have just been recognised as a 'Leader' in G2's quarterly grid on Inbound Call Tracking. This collates results from hundreds of reviews and places us in the highly unique cross-section of companies with top-tier technology and a significantly vocal base of happy clients.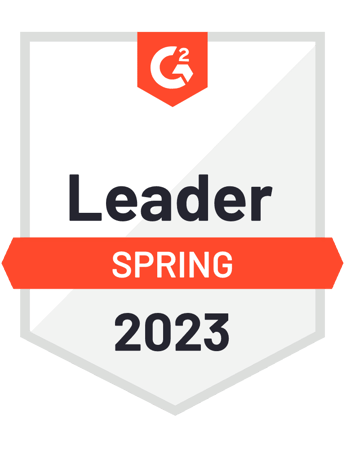 We are the only provider founded outside the US to achieve this accolade, highlighting our position as the global call tracking provider of choice for enterprise brands.
Moreover, last week we received the title of 'Technology Company of the Year' against some stiff competition at the British Data Awards. Our entry focused on many of the updates we've made to our platform over the last year (see below), the ongoing service we offer to get the most out of our platform, and a few of our recent case studies.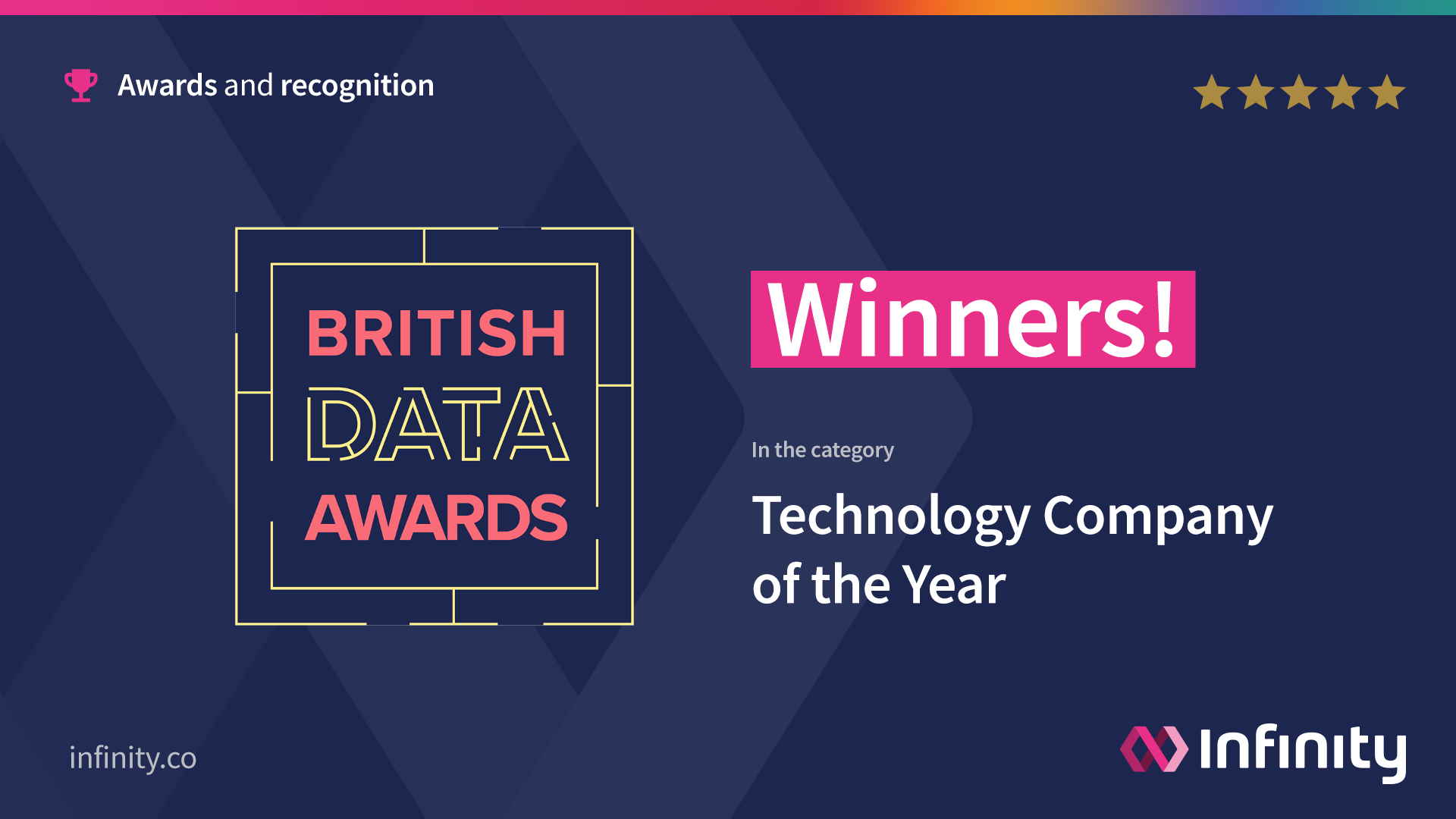 What this means for you: No award makes a direct difference to the functionality of our product, but it's another reminder that you're working with a widely recognised high-performing, responsible partner with great experience of delivering results across many personas, markets, and sectors.
Here are some we made earlier…
The last year or so has been ripe with updates, expansions, and improvements to our platform. Here are a couple of highlights to check out:
See something you like? All of the above is covered in our campus, or you can reach out to your Customer Success Manager if you'd like any additional guidance.
Moreover, the last 18 months have seen us grow our Insights & Intelligence team, a team of experts who specifically focus on serving our Conversation Analytics clients. If you'd like a flavour of what they offer and how you can get more value from the conversations you have with your customers, take a listen to our podcast with the team.
More in the pipeline
There's always something exciting around the corner at Infinity, be it a big launch on our ambitious roadmap, a new use case we have uncovered with our existing technology or a refinement of the day-to-day experience.
Keen to learn more about how to get more value from your call data, drive efficiencies, and deliver better customer experiences? start a conversation with us today.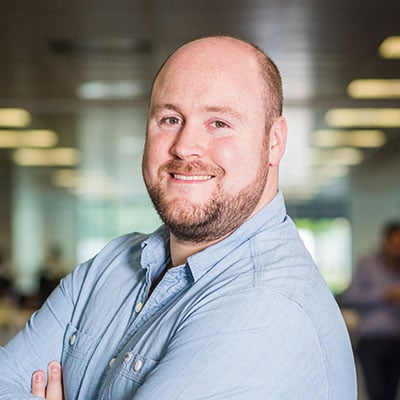 Product Marketing Manager
Andy has spent years obsessively analyzing B2B and B2C digital marketing campaigns and technology. Outside of his family, his main loves are Woking FC, his Xbox and his National Trust membership.
Recent posts
31 May 2023 in Digital Marketing

The importance of call centre agent coaching

25 May 2023 in Interviews

Insights & Impact Ep.5: Reducing Average Handling Times (AHT)

24 May 2023 in Interviews

May Hubdate: Your Hub just got better, here's how…
Subscribe to our newsletter *Required field