3 winning strategies to boost call centre customer retention
18 Jan 2023 in Marketing
---
What are your plans for the next 12 months to boost your bottom line? Sales and marketing teams are feeling the pressure to deliver, but it's not always about the acquisition. The ability to boost and improve customer retention in your call centre is an integral part of building a sustainable business.
It's an old marketing adage that it's cheaper to retain customers than it is to acquire new ones. And it's true, according to research, about 20% of your customers are responsible for 80% of your sales. On the flipside, a shocking 80% of customers churn due to dissatisfaction and it only takes one bad experience for customers to look for greener pastures.
If better customer retention is on your wish list, you're in luck. We've outlined three winning strategies to help boost call centre retention, from enhancing your self-service channels to prioritising the customer experience.


What is customer retention?
Customer retention is a key metric in measuring customer loyalty and is a great way of understanding whether you are effectively satisfying your customers. Essentially, it is a measure of your ability to retain customers over a period of time.
Sound easy? In an increasingly digital world, there's always a shinier, newer competitor on the market waiting to poach your best customers. If you want to make your customer relationships a long-term thing, you need to focus on providing outstanding experiences, from initial research and purchase right through to post-purchase customer care.
So, what are the three keys of customer retention?
Customers don't want to be sold to. While you might be excited about that new product launch, if it doesn't fit their needs, they don't care. Focus on adding value, by tailoring your call centre support and upselling or cross-selling where relevant.
Knowledge plus communications equals success. Your agents need to be skilled at active listening and know how to talk to your customers effectively if you want to build lasting relationships. Speech analytics tools and call tracking can help improve your CRM and get real customer intel that can enhance your communications.
Trust is paramount. We've touched on the importance of customer relationships, you need to make sure your customers are getting quality experiences that builds trust in your business and ultimately, creates loyalty. Focus on providing the best customer experience possible, instead of treating your customers like a cash cow.


How do you calculate customer retention rates?
The first step in boosting your call centre customer retention is to calculate your current customer retention rate (CRR). There are two ways you can calculate your CRR.
The first method requires you to know your churn rate. Calculating CRR is as simple as inverting your customer churn rate, which means if your churn rate is 65% then your retention rate is 35%. If you don't know your churn rate, the second method may be simpler. You can calculate your CRR by collecting the following figures:
The number of existing customers at the beginning of a chosen period
The number of total customers at the end of a chosen period
The number of new customers gained during that period
Once you have these figures, you calculate using the following formula:
[ (Existing customers - New customers) / Total customers ] x 100 = CRR


How do you retain customers through your contact centre?
Make customer experience your priority
93% of customers are likely to make repeat purchases that offer exceptional customer service. By making the customer experience in the call centre your number one priority, you've got a much better chance of boosting your customer retention rates. Great customer experiences start with great agent training, which means you need to back to basics. Focus on comprehensive on-boarding, continuous improvement, and create stellar scripts based on real customer insight.
Most of all, you need to remember that your customers are people, and they want to connect with other people. They don't want to be sold to, they want to buy from brands that they like and trust. Customer retention relies on building authentic relationships and rapport that keeps them coming back to you, which makes accurately tracking when and where they engage with you really important. Use call tracking tools to automatically log when they get in touch and what they spoke to you about, so you can be ready say hello and provide exceptional service the next time they pick up the phone.
Listen to what your customers are really saying
It's really tricky to improve how you do business if you don't have the right data at your fingertips. Most businesses are only collecting data during the exit survey, and by then it's far too late to be talking about retention. What if you could get regular, honest feedback from your customers that you can feed directly into your call centre?
To do this, you need to understand why your customers are calling and what they need. Furthermore, you need more than a limited sample of calls, you need all of them. Call intelligence software, such as Conversation Analytics, can automatically monitor and analyse calls at scale, giving you comprehensive keyword data and common queries or issues. With this data at your fingertips, you can truly listen to what your customers want and enhance your retention rates by putting this valuable feedback into action.
Pre-empt needs with data-driven self-service options
Brilliant customer service isn't just about helping them over the phone. Call deflection done right can make it faster for customers to get the support they need and help your agents focus on the calls that need extra attention. Smart call deflection reduces pressure on your contact centre, reduces average wait times, and allows you to pre-empt needs in a way that makes your customers feel cared for, whether they spoke to an agent or not.
One of the best ways to pre-empt needs is to invest in data-driven self-service options. For example, if you notice that customers are calling to ask the same types of questions over and over again, or a simple issue occurs often, you can use this intel to build better FAQ sections on your website which makes it easy for customers and prospects to independently find solutions. Being able to provide effective self-service usually involves gathering intel from customer calls at scale, which is where speech analytics software such as Conversation Analytics comes in handy.


How Conversation Analytics can improve your call centre customer retention
Call tracking can supercharge call centre performance by providing data on where calls are coming from, to better understand where and why customers pick up the phone. Infinity's speech analytics suite, Conversation Analytics, enables contact centres to capture the data needed to build smoother customer journeys, resolve issues faster and reduce manual work involved in handling multiple calls.
When you put Conversation Analytics and Agent ID together, things get even more interesting. You can gain actionable insights in to how engaging the calls coming in, and going out, of your contact centre are. More importantly, this detailed intel into customer conversations can be used to minimise wait time and reduce pressure on your call centre.
All in all, by adding Agent ID to your tech stack, you'll be able to:
Spot what went well and what didn't on individual agents' calls.
Turn team performance from 'good' to 'great'.
Make manual monitoring and mindless searching a thing of the past.
Fuel better decisions and processes for your contact centre.


Want to find out more about how to take your contact centre to the next level? Book a demo with us today.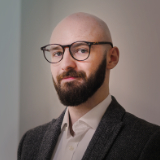 Matt is Head of Brand at Infinity. He has extensive experience helping B2B and B2C brands enhance and manage their reputations, nail their positioning, and launch hard-hitting campaigns through data-driven decision-making.
Recent posts
22 Mar 2023 in Interviews

How data can improve customer call centre experience

15 Mar 2023 in Marketing

How to track and reduce average wait times in your call centre

14 Mar 2023 in News

A match made in heaven: How call data and GA4 will supercharge your understanding of customer journeys
Subscribe to our newsletter *Required field