Marketing
Unparalleled insight into the true thoughts and actions of your customers.
Reduce customer acquisition cost

Improve strategic agility

Attribute specific conversions
Sales
Discover what's leading to closed sales and multiply your successes.
Hit sales targets faster

Increase average order value

Decrease churn
Call centres
Deliver a smoother experience that delights every time.
Reduce average handling time

Curate efficient customer journeys

Solve more basic queries online
Scorecards.
Perpetual improvement
Use custom-built scorecards to raise standards of service, success, and experience right across the board. These can be at agent, team, or company level.
Rapidly improve agent performance
Identify success traits
Quick, easy access in one place
Find out more
Call outcomes.
Pinpoint the difference
Define the key words or phrases that lead to the outcomes you care about. Identify, score and log these calls at scale to understand what drove those outcomes.
Attribute outcomes to paid social and search activity
Identify successful calls to train phone agents
Optimise marketing tactics for improved ROI
Payment
identification
Discover the calls that drove instant revenue
Recognises the precise moments when a caller gives payment details, enabling you to catalogue these converting calls for analysis and training.
Speedy


set-up
Start seeing value
immediately
Jump on the fast track to true audience insight with our built-in testing functionality and setup wizard. In minutes, you can spot the keywords that matter to you on all calls.
Instant
answers
What you want at your fingertips
Stop wasting hours of time listening to calls without finding what you're looking for. Instantly find all calls with the outcomes and keywords you desire, plus the crucial moments.
Data
redaction
Privacy protection is paramount
Detects and immediately removes sensitive details such as address and card numbers. Enabling you to record and store calls without compromising on privacy.
Spotlight.
Constant discovery
Automatically highlight conversation trends before you know you have them. Use insights like these to improve service, refine your brand, and position your offering faster:
Reduce customer acquisition cost

Improve strategic agility

Attribute specific conversions
Sentiment Analysis.
Calmly improve first call resolutions
The mood of a caller and how an agent adapts to it can greatly impact the outcome of a conversation. Sentiment Analysis can identify the sentiment of a call as well as its eventual outcome, enabling you to give nuanced training to contact centre staff.
"Keyword spotting has a huge benefit, not only to identify sales, but also to highlight key themes and topics of conversation."
Cai Mullins
Head of Affiliates and Partnerships
Vodafone's journey
"Infinity's suite is very flexible, the results are immediate, and we are learning things we didn't know before."
Mark Woodcock
Commercial Director - Travel
Discover our insights
"It makes it easy for our marketing and operations teams to isolate and understand certain types of enquiry."
James Boyle
Head of Performance Marketing
Understand the data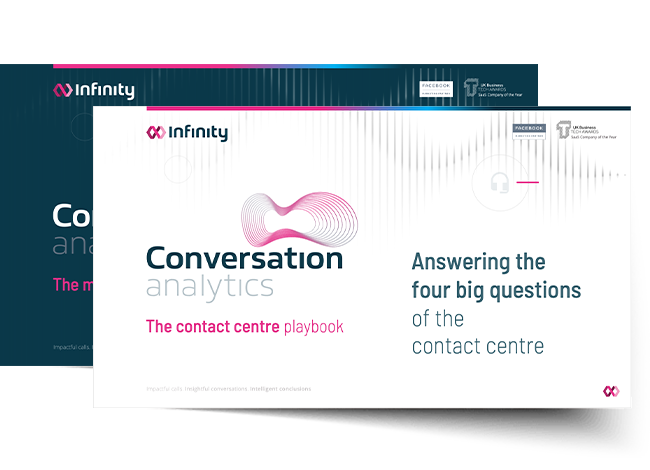 Conversation Analytics playbooks

Ready, set, go
Download the playbooks to uncover how Conversation Analytics can answer some of the most common questions that marketing and contact centre teams have.
Marketing
Contact centre
Call us today on 0333 0600 715 to discuss the right package for your business or complete the form and we'll call you back.