No going back for retailers: why a pre-pandemic customer experience is no longer enough
16 Dec 2021 in Marketing
---
There's no business that hasn't been significantly impacted by the pandemic. For retailers, it's been 18 months of upheaval and uncertainty. Reduced footfall, decreased budgets and lockdowns have done no favours for the industry, presenting retailers with some of their biggest challenges to date.
A recent UK 2021 report on the state of the customer experience revealed that as many as 30% of UK B2C companies are still not back to pre-pandemic CX levels. The pandemic has resulted in changes in customer behaviour and has caused a fundamental shift in the way people interact with businesses. Simply returning to pre-pandemic customer experience levels is no longer enough.
In this blog, we'll look at how customers have changed, how you, as a retailer, can align with these changes, and the ingredients needed to deliver the experiences that today's customers expect.


Making the crucial move: From transactional to personal
Customers want a completely different experience to what they expected just 18 months ago. They're interacting with your business in different ways and through various channels. They're making purchase decisions in different ways. They expect every touchpoint in their journey with you to be seamless, responsive – and personalised.
Despite these new expectations, retailers are falling short on delivering superior experiences because they're still operating in a transactional way with their customers. Common retail practices, such as implementing strategic pricing or promotions to engage customers are no longer as effective as they used to be. And, with 73% of shoppers saying that the customer experience is more important than price – or quality, it's time for retailers to find ways to drive value in the customer experience they're offering. Another problem with transactional approaches is that these tactics fail to take into consideration the individual customer and their entire journey, the different touchpoints they interact with, their sentiments and motivational drivers. 
Unfortunately, the transactional approach is no longer enough to keep customers happy – and keep them coming back. So how can this be done?


Driving the customer experience: becoming pioneers in personalisation
Buyers' expectations for quick, personalized experiences have grown by 26%. Online pioneers such as Amazon, Netflix and Spotify have set the bar high for retailers and customers have now grown to expect more personalised experiences. This has forced retailers to up their game.
Research has shown that personalised experiences can drive up both customer loyalty and the top line. However, as technology and digital channels increase to better serve customers, the customer experience is still suffering. So, what are retailers missing?
Businesses today have become heavily reliant on technology and a study by Forbes argues that, for customers, it can often feel like businesses are "hiding behind bad customer service technology" and that there too often no human is available when only a human can help.
One thing's for certain; you cannot afford to lose sight of the importance of human interaction or underestimate the fact that, despite the resurgence of digital channels, customers will still choose to make a phone call to a real person.


Your call is important to us
Reports have shown that retailers are experiencing higher-than-usual contact volumes from consumers and this is preventing them from providing an optimal customer experience. Ensuring contact centres are fully equipped for influxes in calls is critical.
But as retailers have been focused on boosting their digital strategies, the call centre has been overlooked. Since the pandemic, hordes of call agents had to work remotely, causing obstacles such as unsuitable equipment, broadband limitations and keeping staff morale high. Call agents had to continue taking inbound calls, managing new leads and completing sales, making delivering a good customer experience more challenging than ever.
Preparing for call centre spikes, especially in the run-up to Christmas, is something every business needs to prepare for. And yet, 'We're experiencing higher than normal call volumes' and 'Your call is important to us' are two phrases that consumers are all too familiar with. Unfortunately, customers associate these generic holding messages with poor service, long waiting times and unresolved queries.
Your call centre's performance closely mirrors your customer's satisfaction and experience with you. If your call centre agents are not tapping into the insights that can come from customer conversations, you'll miss out on a lot of efficiencies, and you can guarantee that the customer experience will be below par.


The phone call - the major point of customer conversion
Not only are phone calls the critical point at which online and offline channels converge, they're overwhelmingly reported to be a major point of conversion.
Interestingly, many retailers who regularly receive calls are not aware of just how much intelligence is trapped on their calls, let alone how to extract those much-needed insights.
For contact centre agents experiencing high call volumes, there's just not the time to manually listen to every call and find out valuable details such as:


What did your customer call about?

How do your customers feel about your products?

Did your customer make a purchase?

Did they mention a competitor on the call?

Were your customers happier at the end of the call than at the beginning?

How can retailers predict the outcome of a call in the future?


Conversation Analytics provides everything you need to record and analyse every call while also enabling you to sift through them for the insights that matter the most.
With a phone call, you have the chance to connect and build relationships with their customers. And that level of personalisation will, in turn, improve the customer experience.
With the insights that come from Infinity's Conversation Analytics suite, you can quickly identify what's working well on your phone calls and gauge which areas need more attention. This will equip call centre agents to better serve customers, increasing the likelihood of purchases and moving the needle with the customer experience.
Not only this, call centre agents can use Conversation Analytics to automatically catalogue and search the calls that matter most. They'll be able to see what happens before, during and after calls – at scale - and without the need to manually listen to thousands of them.
This level of call intelligence means you get closer to your customers' needs and expectations. With Conversation Analytics, nothing is reliant on guesswork or opinion. You get instant access on the insights that will prove invaluable to you, your contact centres and for your customers' experiences.


Unlocking more profit with conversations
As you can see, there are a ton of game changing insights trapped in your conversations with consumers. Our latest eBook explains how retailers can tap into them and use them to deliver margin expanding experiences. You can download a copy here.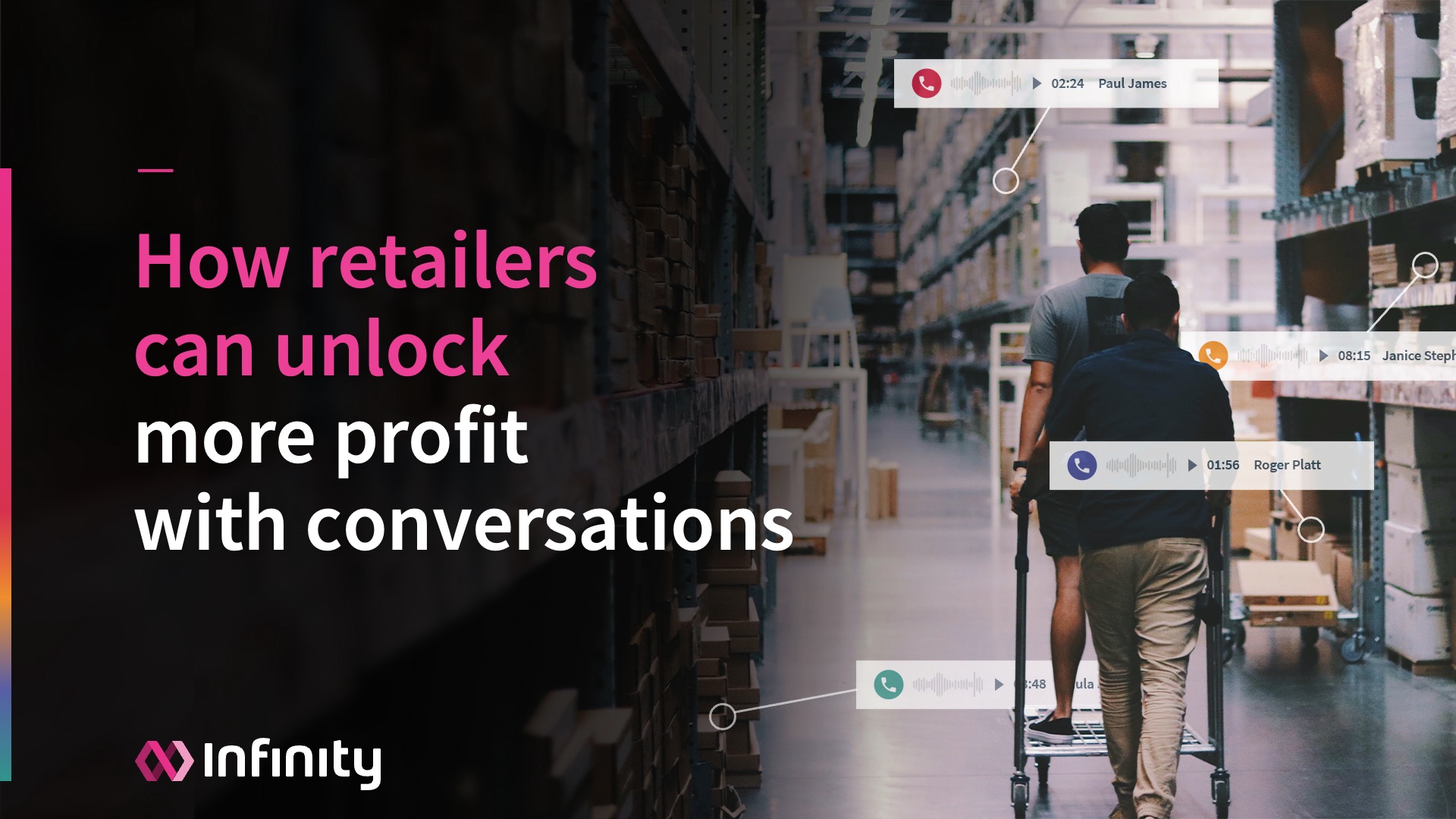 Key Takeaways
Here are 5 ways Conversation Analytics can help you really set yourself apart as a customer experience pro, into 2022, and beyond:


Uncover conversation topics, themes, product issues and trends

Drive efficiencies in contact centres and train call agents faster

Organise and log calls at scale, freeing up agent time to focus on more customer calls

Improve first call resolution, resulting in more satisfied customers

Drive a high level of customer experience

"Conversation Analytics has a huge amount of benefit, not only to identify when sales have been made, but also to highlight the key themes and topics of conversation, which can lead to improvements being made to our digital marketing messages. This is something we will be focusing on, as we integrate more closely with Infinity." - Cai Mullins | Head of Affiliates and Partnerships, Vodafone


Interested? Let's talk
Every conversation matters. Start one with us today to unlock the benefits of Conversation Analytics and transform your CX.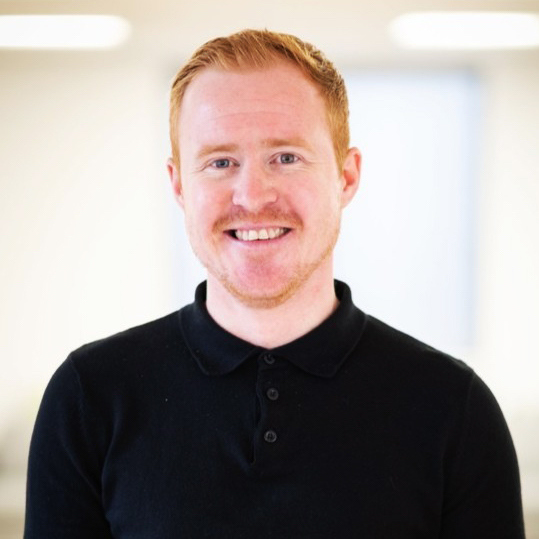 Business Development Manager
Scott has helped retailers such as Carpet Right, Hotpoint and Specsavers unlock insights trapped in their phone calls to optimise marketing activities, and deliver first-class customer experiences.
Recent posts
31 May 2023 in Digital Marketing

The importance of call centre agent coaching

25 May 2023 in Interviews

Insights & Impact Ep.5: Reducing Average Handling Times (AHT)

24 May 2023 in Interviews

May Hubdate: Your Hub just got better, here's how…
Subscribe to our newsletter *Required field