Eight big tech questions facing the travel marketing industry
26 Feb 2018 in Digital Marketing
---
It's an optimistic time for the travel industry in the UK. The Association of British Travel Agents (ABTA) reported that the average Briton now annually has 3.8 holidays per person, an increase of 0.4 on the previous year.1 This is the highest number of holidays per person in the last five years. Moreover, with over a quarter (27%) of holidaymakers planning to visit a country they've never been to before, it's an adventurous market with a wealth of wanderlust ready for travel companies to take advantage of.
But with such a competitive field, how can businesses in the travel sector truly stand out to the audience that matters to them? Right across the industry there's a wealth of creative, engaging marketing ready to spark the imagination of curious holidaymakers. Intelligent use of technology will both cut through the noise, and deliver a higher quality experience to the customer at a lower cost to you.
This week, we went to Travel Technology Europe in London with a view to getting the latest insights on how travel companies can get ahead with their investments in the latest technology. Here were the questions that were occupying much of the conversation, and some approaches to dealing with them:
1. How are hotels influenced by Airbnb?
Airbnb were one of the most frequently mentioned brands at the conference, especially as they had a substantial presence promoting their options for corporate accommodation. Undoubtedly, they have been one of the names that has shaped travel over the last decade, and the seismic shock they have delivered is one that many hotel chains have had to respond to. Not only in the property they offer, but the ease of experience and booking that this emerging audience has come to expect. Communicating these benefits, while maintaining the brand's own identity is a challenge that many marketers of city breaks will need to address.
"The number of urban properties grew from 8% to 23% of the total holiday rental market in just under ten years. These bookings directly compete with hotels in cities, and it's a shift in the market that they need to learn from and adapt to. Major hotel brands like Radisson Red and Marriott Moxy are already looking to integrate successful aspects of these experiences into their offering in order to ensure they meet the demands expected of modern city breaks."
Gino Engels | Co-founder and CCO, OTA Insight
2. Are you really getting all possible value from your content?
As customers plan their next excursion, they expect high quality content to whet their appetite and ignite their imagination. Travel brands cannot afford to underwhelm here. Luckily, with drones, virtual reality, 360 photos, and ubiquitous high definition offerings, the potential for a growing range of creative, engaging video is there, but it can also come at a price. With more outlets for this video than ever before, you need to know how to keep this content working for you.
"If you are planning to create 'hero' content assets for the year ahead, you are likely looking at a significant investment. It is therefore important to take the time to plan for repurposing and modularity of that content in order to optimise its use across different channels and different audiences. For example, editing video content into different formats, lengths and focus allow you to optimise your content strategy for specific channels such as Facebook, your website, PR and TV - understanding that your audience consumes content differently depending on the channel and also how far down the purchase funnel they are. This is a very effective strategy for creating content quickly, staying customer focused and ultimately leading to a more profitable return on the initial investment."
Suzie Thompson | Vice President - Marketing, Distribution & Revenue Management, Red Carnation Hotels
3. How are you combining design with purpose?
Travel marketing and communications are highly visual, eye-catching, and stylish. But nestled within a picturesque brand, there still needs to be clarity in the type of holidays and experiences you provide, followed by a clear journey to discovery and booking. Regular monitoring of how people are navigating through your site, including what pages are driving phone calls or form fills, will give you feedback on how effectively you are answering this question and where to improve.
"Lots of brands want a highly stylish and cool website, which is great, but it can't come at the expense of obscuring what you provide. It needs to be obvious what you do, and seamlessly functional. For example, on Booking.com's website they have two clear paths. A form, for those that already know what they want and are ready to start booking somewhere, or a more content-heavy path full of suggestions, themes and ideas for those who are still making their mind up. It's a natural user experience that still looks good where it needs to."
Richard Baker | Group Sales & Marketing Director, Inspiretec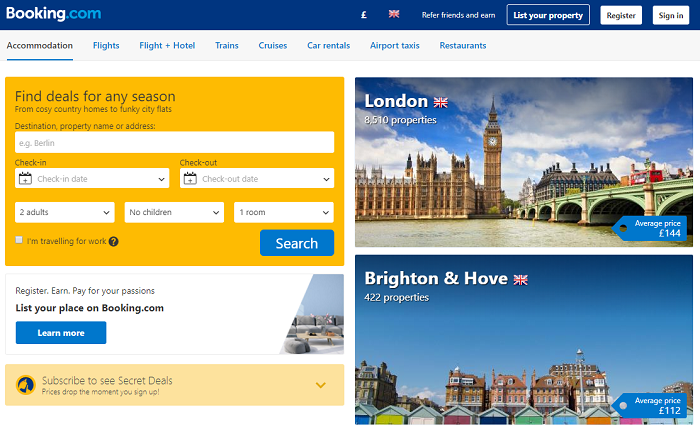 As Richard mentioned, there is a clear path for visitors to the site depending on where they are in their customer journey
4. What is your tech buying strategy?
Thousands of people attended Travel Technology Europe with the specific intention of researching new solutions for their company and forging new partnerships with tech suppliers. But with so many options on show, being thoughtful about what you want to achieve and how to maximise your return on your budget is essential. You also need to set expectations on when you will start seeing results, as different strategies will have different roadmaps to success.
"When buying technology to implement across the business, you really need to start your thinking not at the beginning but where the biggest opportunity sits when planning to invest. For example, what is the value of converting 1% of your lost opportunities every year? At scale, it's worth millions for a lot of travel brands. Implementing the changes that drive those results takes time, resources, and effort, but if you have a clear view of what results are realistically possible you can make a clearer judgement."
Skip Fidura | Client Services Director, dotMailer
5. Is your ability to gather relevant data flexible enough?
The imminent arrival of GDPR, along with other initiatives aimed specifically at the travel industry meant that the gathering and utilisation of data was a hot topic. It won't go away, so travel brands wanting to build longer term relationships with potential customers need to be thinking about how they can provide true value to people in exchange for their data.
"To build meaningful longer term relationships with customers, brands need to look at how content can play an effective role in building your data. One example of this is KLM, who had an email campaign going out to their empty baskets giving them an interactive digital copy of their branded magazine. It asked them to pick their top 5 ideal holidays, to be in with a chance of winning one. This means they now know exactly what each person is interested in, and can build an ongoing dialogue with a far more accurate idea about what resonates with each individual."
Thomas Parker | Strategy Consultant, Parker Stone
6. What opportunities will self-driving cars bring?
As travel companies continue to look at new products to offer and opportunities for upselling, one eye has to be kept on the experiences that technological breakthroughs will soon be offering. Autonomous vehicles were spoken about favourably as an attraction that unlocks unprecedented levels of personal service for travellers, and anyone who looks closely will undoubtedly be able to see revenue-generating opportunities.
"Uber announced they expect self-driving taxis to become mainstream in 10-15 years,2 having recently purchased 24,000 self-driving cars from Volvo. So if your child was born after 2010 they may never have to drive a car. As the technology advances the travel market needs to look at what this means for them. Instead of taking 500 people on the same open-top bus tour, you could have 500 people all going on totally unique tours that suit them. It could be at any time of the day, starting and finishing wherever the customer wants, whenever they want. And the vehicles would also know the best route to avoid traffic."
Alex Bainbridge | CEO, Uptaste
7. How are you aligning your digital and traditional marketing?
For the first time in their history, Facebook's number of monthly users in the US and Canada dropped in Q4 2017.3 Is this a reason to panic and abandon the platform? Absolutely not, but it serves as a timely reminder that it's not the only game in town, and no channel has a monopoly on eyes, ears, and attention. Major travel brands will have substantial segments of their audience spending a lot of time with a mix of online and offline media, and your marketing strategy needs to reflect this.
"Your digital efforts cannot be used in a silo from your traditional PR activity – the two must work in synergy and amplify each other. There is a huge amount of people that aren't on Facebook, or don't use it much, who may prefer to read magazines or pick up a free newspaper every day. A well-honed PR strategy aids the vitality of your campaigns, and is still able to target specific audience groups."
Georgios Chiotis | Marketing Director, Generator Hostels
8. Does one type of service really fit all?
There's a vast mix of different hotels, airlines, resorts, holidays, locations, and choices available for an equally diverse mix of travellers and holidaymakers. As travel companies look to provide the most efficient service, it's vital they are still meeting the demands of their customers.
"The bigger a booking, the more the customer is going to want offline or one-to-one communication. If somebody wants to book a quick weekend getaway, they're happy to do it quickly online with a form. But when organising a large family trip or the holiday of a lifetime they aren't going to leave anything to chance, they will want to speak to someone before committing. So no travel operator selling high value packages can ever afford to lose those channels."
Mark Smith | Head of Business Development, Simplexity Travel
What is truly working?
Whatever marketing strategy you choose, it's vital that you know what's working and what's not. Failing to do this will leave you spending huge sums of money on guesswork. Start a conversation with Infinity today to see where your most valuable customers are coming from, and how to get more of them.
Watch our latest case study with Scott Dunn to see the type of results we generate.
Do you work in the travel industry? Infinity has partnered with award-winning travel industry journalist Benjamin Coren to produce our handy in-depth guide on the key trends set to shape travel through 2018 and beyond. Download it now.
References:
1) ABTA Travel Trends Report, 2018, Association of British Travel Agents, (Dec 27, 2017)
2) Uber's CEO predicts the U.S. will have flying cars within 10 years, Bloomberg, (Jan 11, 2018)
3) Facebook lost daily users for the first time ever in the U.S. and Canada, Recode, (Jan 31, 2018)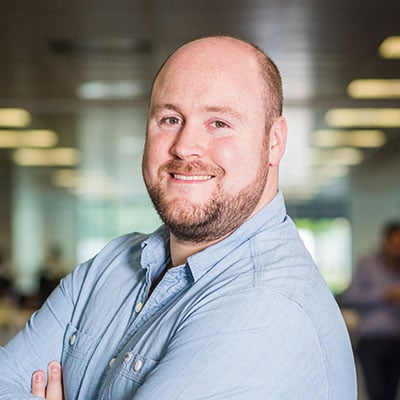 Product Marketing Manager
Andy has spent years obsessively analyzing B2B and B2C digital marketing campaigns and technology. Outside of his family, his main loves are Woking FC, his Xbox and his National Trust membership.
Recent posts
31 May 2023 in Digital Marketing

The importance of call centre agent coaching

25 May 2023 in Interviews

Insights & Impact Ep.5: Reducing Average Handling Times (AHT)

24 May 2023 in Interviews

May Hubdate: Your Hub just got better, here's how…
Subscribe to our newsletter *Required field