Your secret weapon(s): Why your agency's tech stack matters to you
18 Aug 2017 in Interviews
---
Your agency is an extension of your brand, they represent you, speak for you, and work for you. Therefore, the software and tech solutions they bring to the table need to be considered and consulted upon when deciding who to partner with.
Proctor + Stevenson have a prestigious 35+ year history that continues today as they work with major brands such as BMW, Panasonic, Rathbones Investment Management, and plenty more. They have also been using Infinity where suitable with their clients, and place a strong value on the accountability of their performance. We spoke to Matt Skinner, Head of Digital Strategy and Data, about the value that a reliable tech stack brings to an agency and their clients.
Infinity: Why does the tech stack of an agency matter to their client?
Skinner: Obviously if you're a specialist agency, you need the tools to be able to deliver your service, but for full service agencies like us, I think it matters most to a client when they don't notice it.
One of the reasons clients will come to agencies like us (leaving aside that we're the best at what we do, of course!) is convenience and logistics. It's easier to manage one relationship and to know that you can have a multitude of problems solved with one phone call to your account handler, particularly if you have a high turnover of projects and tight deadlines.
When clients come to us with issues or campaigns that require multiple services, disciplines and channels, our job is to pull all of these services lines and technologies together to deliver a custom solution quickly and without fuss. Often, a client will come to us on a project and say "can we measure X?" 20 minutes before the campaign is due to go live. They just want to hear "yes" or "no", and for us to get on with it without a detailed explanation of the tech involved, or to give them 20 new companies to call. This requires us to have a full roster of tools on demand.
What should a brand look for when assessing the tech stack that an agency brings to the table?
It depends on what kind of agency you're looking for.
If you're looking for a specialist agency, the key thing is to make sure you always keep your core objective in mind when discussing solutions. Make sure the agency's pitch shows you how the tools they are suggesting are going to deliver on that objective. Don't get distracted by the bells and whistles. I've seen situations before where a client has been sold in on a marketing automation tool because it can send tweets in space, or has a cup holder, but when they get into it, it turns out it doesn't do any of the things they needed in the first place.
If you're looking at a full-service agency for a long-term appointment, then I'd say it's more about the agency's attitude to problem solving rather than the tech used at any one time. Martech is changing all the time, agencies need to stay on top of what is and isn't available: the roster of solutions they currently work with may be completely different in a year's time. Grill them on times when they have had to improvise and seek a new solution to a problem, this will give you a good idea of how they can adapt.
How do you ensure you are maintaining an offering that suits the needs of your clients?
It's a boring, corny answer, but truthfully: we listen to clients and we learn from them.
I think agencies stagnate when they create one templated offering and sell it to as many clients as possible. It might be good in the short term, but it won't last, and the team at that agency will only learn how to do things one way.
The problem with this - aside from it being a super boring way to work - is that in reality, no one client or project is the same. Even projects with similar objectives will differ from client to client for a variety of reasons - audience size and demographics, technological differences, client's internal resources, stakeholder objectives - the list goes on. Working on a variety of projects in quick succession means we can learn from each one, and move that experience onto the next project, so we're always evolving what we offer, and how quickly and efficiently we can offer it.
Can you share an example of a case when a client has needed a better understanding of how implementing new tech solutions will improve their business?
A lot of companies we work with only track form completions when they're trying to measure the effectiveness of their websites. When phone numbers are brought up, the idea that they would be something you track inspires a weird incredulity in many digital managers, that it somehow doesn't count, or it's just a gimmick. When discussing the conversion rate on one client's website, we mentioned call tracking as an option, and the reply was "well, of course people are getting the number from the website – where else would they get it?" But that's exactly the point. That's like saying "well of course they submitted the form on the website – where else would they submit it?"
Why is it important to track those calls?
That phone call is down to people being able to find your website, navigate to the relevant contact area, then get in touch. If sales are being made off the back of calls generated from a website, then YOU did that, marketing teams! It's exactly the same thing as generating a form completion. This is a potentially huge amount of revenue that can be ascribed directly to web, digital and marketing teams that is otherwise ignored. It's a gigantic missed opportunity for many companies.
Aside from the attribution insights into the performance of a website or campaign, what are some of the longer term benefits the client can expect from call tracking data?
Even if your objective is to make efficiency savings by reducing phone calls and pushing more users to contact forms, how are you going to do it without knowing how many calls are coming through? You need the whole picture in order to make the necessary creative, strategic and technological decisions, and to measure the subsequent results.
What kind of results have you seen call tracking generate for your enterprise clients?
With one client, we found that over 50% of contacts made directly from the website were via phone calls. That's potentially a 100% increase in the revenue generated from the site. If an agency told you they could increase your reported revenue generated by 100%, just by adding a simple script on your website, would you say no? This seems like a no brainer.
How should an agency work alongside a tech partner to deliver the best results to the client?
If the role of an agency is to help our clients look good, then role of a third-party provider is to make the agency look good. Infinity has enabled Proctors to do both. They're our go-to provider for all call tracking solutions, their agency support is excellent, the entire team is accommodating, easy to work with and are always ready to help on the rare occasion there's a problem. We hope to be working with them for a long time to come!
How does having multiple platforms to check affect your everyday work for the client?
It can be difficult, as not every tool processes data in the same way. HubSpot processes web visitor information in a different way to Google Analytics, for example, so your overall numbers will be different. While the tools are both valuable, it's important that the client and the agency acknowledge and understand the difference, otherwise you spend a great deal of time going back and forth about which numbers are 'correct'.
For better or worse, we tend to choose a master data source for ongoing reporting and tracking on projects - ordinarily Google Analytics - so everything is consistent. Using additional tools as a supplementary data source for deeper analysis is needed, but the more often we can find a tool that integrates with GA (which Infinity does) the better.
In what ways does tech and data influence the creative energy that clients expect from an agency?
That's an odd question to answer, because I don't think data and tech should influence the creative energy at all, an agency should have that regardless, all data and tech should do is enable and focus it. I work closely with our creative team, and this might be strange coming from a data person, but I think it's unfortunate how data and tech appears to dominate modern marketing discussions. Unfortunately, aimless data collection appears to have become the endgame for many marketers, and there's nowhere near enough emphasis placed on the considerable skill involved in the creative interpretation of this information. Here, we try to emphasise that everything we do as marketers – whatever your discipline - is in the service of the creative, whether deciding on the right platform to get the creative in front of the right people, to making sure we're using the most effective subject line in an e-mail.
Get in touch
Knowing the benefits that different technologies bring to your campaigns will ensure you have informed, productive conversations with your agencies. To see the different ways call tracking benefits businesses, visit our case studies page, or start a conversation with us today.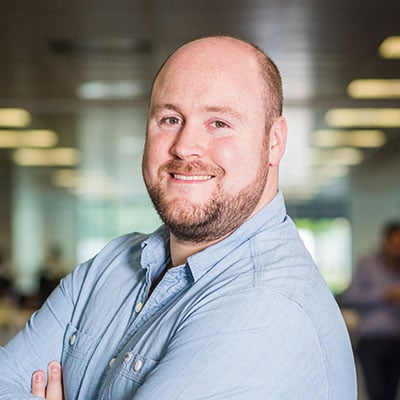 Product Marketing Manager
Andy has spent years obsessively analyzing B2B and B2C digital marketing campaigns and technology. Outside of his family, his main loves are Woking FC, his Xbox and his National Trust membership.
Recent posts
22 Mar 2023 in Interviews

How data can improve customer call centre experience (Clone)

15 Mar 2023 in Marketing

How to track and reduce average wait times in your call centre
Subscribe to our newsletter *Required field