The science behind the o2o retail strategy
17 Jun 2019 in Marketing
---
In the beginning came offline. Then man created an online sphere. All was well between the two. Separation reigned supreme. However, are the lines between both starting to bleed into one another? With the introduction of AR at home, cashier less stores, and such, it's no wonder that retailers globally find themselves unsure as to how best to manage the online-to-offline (O2O) merge.
Is it simply a case of omnichannel yin and yang working in perfect attribution harmony? Is it best to treat them as two totally different entities and not think too much about the crossover? Or, is it a bit of column A and column B.
Here's everything you wanted to know about online-to-offline but were too afraid to ask.


What is O2O?
O2O stands for "online to offline" strategy. Put simply, it means identifying customers in their digital journey and then using the data collected on them to find ways to entice them into using offline channels, such as bricks and mortar stores and phone calls.
For example, take Shopkick. An American company whose app allows them to reward users for shopping activities, both online and offline. An in-store beacon notifies the customer's app when they visit that particular store and reward them with promotions and offers.


Why is it happening?
It's forgivable if you're struggling to adopt the concept of integrating offline channels into your strategy. We live in a digital utopia, one whereby customers have the ability to electronically order their taxi to work, weekly food shop, and apply for a mortgage before they've even brushed their teeth.
However, with e-commerce representing 17.5% of the global retail market, 82.5% of all retail sales will still occur inside physical channels as late as 20211.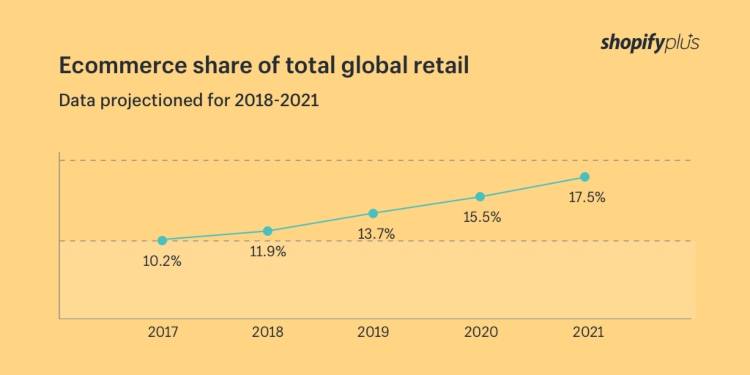 Source: Shopify Plus, 2019

To further solidify the emergence of O2O, a Gartner survey states that 98% of marketers say the merger of online and offline marketing is bringing about a brand new future of growth and opportunities for markets everywhere2.
With statistics and graphs aside, what are consumers' motivations for shopping offline?
Is it the cultural shift of experiences and genuine brand encounters that consumers tend to be moving toward? With choice a-plenty in 2019, and presumably onwards, consumers reserve the right to be fussy about who they decide to buy with
In fact, a global survey by CBRE Group INC has shown that 70% of millennials, the largest purchasing power in the world, prefer shopping in stores. This is ironic due to the fact they are the demographic who spends an average of 7.5 hours a day online3.
"So much of what consumers today are looking for is a connection with the brand. They're placing almost-human expectations on the companies they interact with. If they just wanted a product, they'd buy it on Amazon."
Jen Rubio | Co-Founder, Away
Perhaps in-store experiences are a way for consumers to disconnect for a while. Earlier this year we delved deep into the world of digital detoxes. Whilst we're not advocating the abandonment of digital channels, in favour of offline ones, it always pays to respond to how your market's purchasing behaviour is changing.
Furthermore, whilst we can order toothbrushes, books, and groceries at the drop of a hat, does this take the pleasure and experience out of shopping for something we are emotionally invested in?


What are the benefits?
Firstly, is revenue. A survey conducted by the International Council of Shopping Centres found that 70% of shoppers ordering online and picking up in store are more likely to buy impulse purchases once in the store.
Secondly, is market exposure. Merging online and offline gives you the chance to appear in front of your customers much more often. If your brand can connect the dots, you can increase your chances of having a larger presence in your market sh has the potential to reach a larger customer base. If your brand can connect the dots between your channels, you position yourself as having a larger presence in the overall market and therefore.
A clearer understanding of how your online channels are leading to offline interactions will help you build a more accurate, reliable attribution model that can be optimised for greater results in the future.
When asked what the benefits of merging the online and offline world, and why it's relevant for 2019, Redrow Homes had this to say;
"Merging offline and online isn't so much a benefit but more of a necessity in 2019. In an ROI driven world, brand campaigns are becoming harder to justify, even if all the data and research tell us it's important".
"As we've moved into the digital age of marketing, it's become scary to do anything 'offline'. It wasn't that long ago that it was the other way round. The reason for this is that we've become reliant on the instant, comprehensive performance reporting online marketing channels provide."
"In many cases, offline advertising, be it print, linear TV, radio or out of home can still be extremely effective solutions for campaigns, especially when mixed with online channels. The trouble we now find, is being able to accurately and honestly report on their effectiveness."
Dominic Walker | Marketing, Redrow Homes


Who's doing this already?
A number of retailers are already adopting and implementing the online-to-offline trend. Even something as simple as collecting an email via an in-person experience at an event is a start. But, the most noticeable are few the ones who do it in perfect execution.
Amazon's cashierless store launched in 2018. The shopping experience meant customers would browse grocery products in-store, without having to queue and pay for the items, and leave the store in record time. Their basket in-store would log which products were put in it, and then their account would be charged upon exit. A perfect example of online-to-offline blended together in a harmonious symphony.
Or, perhaps take a look at Nike's in-store self-serve feature. Customers can scan product barcodes in the official Nike app, gather information on the product, find variations, stock availability, and even have an assistant bring a pair out for them to try on. Based on the information you enter in your online NikePlus profile, in-store staff can react and tailor your experience with them.
Not forgetting Infinity client Redrow Homes, who recently launched their #RedrowTheySay T.V. campaign. With the power of Infinity's Conversation Analytics, and keyword spotting, Redrow are able to see which customers mentioned their offline TV advertisement during the phone call, as well as seeing when this was likely to have influenced their online journey. Thus enabling them to gain clarity on data that matters to them.
"A tool like Infinity's conversation analytics is a great way of bridging the gap between offline and online. A potential customer could identify the reason for the call as a TV campaign to a sales consultant in a sales office in Kent or a Marketing Director in Manchester."
Dominic Walker | Marketing, Redrow Homes
Why call tracking?
With any marketing, be it offline or online, you need to know what's working. Call tracking bridges the gap between both. If your customers prefer to view your products online and then make a call to purchase, you need to be able to ascertain what drove that call.
As mobile has one of the primary connective tissues between online and offline (39% of mobile shoppers are likely to call a business after viewing their products online) it is imperative that you track your entire customer journey.
Either through a phone call, live chat, or email, start a conversation with us today to discuss the many benefits call tracking can offer your business.


References
1. Physical store purchases 2021, Shopify, (2018)
2. Gartner online to offline report, Gartner, (2018)
3. Millenials in-store purchase power, CBRE Group Inc, (2019)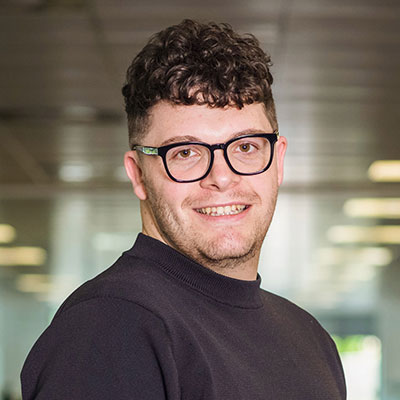 Copywriter
Alex is a digital expert specialising in creating copy that engages, entices, and excites our clients. Usually found poring over past issues of Vogue and playing paparazzi to his dogs.
Recent posts
30 Jan 2023 in Interviews

Insight & Impact episode 1: What the heck are call drivers?

30 Jan 2023 in Marketing,Digital Marketing

How to improve digital marketing ROI with Call Tracking

30 Jan 2023 in Marketing

Optimising your marketing budget: Key factors to consider
Subscribe to our newsletter *Required field