What do digital detoxes mean for your business?
5 Mar 2019 in Marketing
---
By 2020, roughly 2.87 billion consumers will own a smartphone 1. That's the highest rate of technology ownership since the invention of the television. Furthermore, as a result of this proliferation of digital devices and constant streams of communications, people on average spent 24 hours online per week in 2018 2. It is not incomprehensible to expect this number to increase.
However, having too much of a good thing can sometimes be its undoing. As people are now getting comfortable with the accessibility of having access to instant information, communication, and notifications, we are now experiencing a case of always being "switched on".
For consumers, this means a detachment from information overload and a quest to find mindfulness in a frantically fast-paced world. In fact, a study by EY, states that 41% of UK consumers are making a conscious effort to turn away from their smartphone and other devices 6.
But, for marketers, who mainly rely on digital channels, this could mean big trouble.
Whilst we're not advocating the reduction of your digital marketing efforts, we're simply going to be examining how you can still remain relevant in a world of cultural digital-detoxes. And with people seeking more authenticity and suffering from social fatigue, how are you going to continue to target them?


How common are digital detoxes?
It's hard to imagine a digitally obsessed world having vast amounts of consumers switching off. Technology enriches and offers convenience in our lives. From ordering an Uber in a moments notice to adjusting our home's central heating from the comfort of our offices.
However, according to a report by Deloitte, 47% of smartphones users have tried to limit their usage 3. This is further enforced by Mintel who state 21% of UK consumers who have cut down on their social media usage and say they have done so because they were worried about their mental health.
Just a quick, ironic, scan over social media show that there's momentum for taking breaks from the digital world.




Why are people doing it?
The demands of a constantly switched-on mindset have taken its toll on society. The rising levels of anxiety, depression, and social isolation can all be linked with the use of social media and the Internet. A recent study by charity Anxiety UK confirms that 60% of smartphone users feel the need to switch off from their devices and social media 4.
But, this isn't enough. More and more people are starting to realise the impact of being connected 24/7, and are switching off. Consequentially, face to face conversations and phone calls are presenting a more intimate and personal experience as an alternative to an emotionless screen.


What does it mean for businesses?
The marketplace is a frenetic online world where everyone and their mother relies on digital channels to help advertise, market, and even just sell. It may be high-time to disconnect the wifi and collectively brainstorm other touchpoints that will need creating for your customers to interact with your brand. For example, phone calls or in-store face to face interactions.
Secondly, it's about demonstrating respect. Statistics are practically screaming at us that many of our customers are deliberately trying to spend more time away from their screen. Businesses must, therefore, respect this cultural shift.
On the other hand, brands that deliver high quantities of content to their audience may also need to consider a shift in strategy. What's the point in the creation of huge amounts of content online if half your audience is looking to reduce the time they spend engaging with said content?
Pulling back on trying to be "first", and focusing on providing what's "right", could mean the difference between visitors deciding to stay on your site or adding you to their online cleanse.
"Perhaps companies should make a concerted effort to digitally target their audience in a more concise, thorough, and creative way? The changing landscape of social media will hugely affect businesses, forcing them to give more thought to their overall marketing strategy, including the use of traditional marketing methods."
The University of Sussex, 2018


What can you do about it?
Recognising and reacting to cultural trends isn't new to marketers. But this particular shift in consumer behaviour is going to be a tricky ship to steer, especially if your main strategy relies on digital channels.
Marketers in a lot of industries are going to have to create a healthy balance between a recognisable digital presence and a personal offline one too.
Not every brand interaction warrants an in-store visit or a call to the company. Some answers can be resolved quickly by the use of a chatbot or a FAQ page on your site. In fact, Salesforce's State of Chatbots 2018 research concluded that consumers feel chatbots are 35% better at answering quick questions than applications 5.
However, when it comes to fully aligning your brand with the new wave in digital detoxes, offline touch points will need to be available in order to do so.
Finally, it's important to remember it's not up to you as to how your customers will hear from you. But rather, how your customers want to hear from you. Analysing your company's data will show you the most preferred method your customers are choosing to get in touch.
We caught up with Matthew Parker, CEO at babble.cloud, at the latest Travel Technology Europe, who provides an interesting perspective on preferable marketing communications
"It's really about how your customer wants to hear from you. Do you want to speak to a real person? Or, do you need to speak to a chatbot? What's easiest for them? Giving people the choice, the experience, and then sitting back to analyse how they choose to interact is definitely the way forward."


Who's already doing this?
Many entrepreneurs have already jumped on the bandwagon of creating apps to accommodate a digital detox lifestyle. However, what about a brand that doesn't offer this?
Some are continuing their digital strategy whilst also offering a different way for consumers to get in touch after they've been exposed to a particular campaign.
Take Infinity client, Kuoni, who recognise the true power of meaningful human interactions. Their 2019 campaign puts the emphasis back on their travel agents and prompts their audience to talk in-store or over the phone to discuss their travel needs rather than relying on algorithms. They still provide a website which you can book your holiday and forms to contact them on but offer offline alternatives for customers who want to get an expert's opinion on their holiday.
Lastly, meet the travel company who have also built a business model around human interactions with experienced professionals who are passionate about providing an exceptional travel experience.
Inspiring Travel Company (ITC) CEO, Jennifer Atkinson, also realised the personalisation power of phone calls and rejuvenated the ITC Travel Group brand into a bespoke travel company. Offering customers something they couldn't order online themselves, whilst gently nodding to the shift in consumers switching off, ITC now primarily books holidays with clients via the phone.
"It is about giving the best possible insight. So when discussing a holiday destination, our staff can say things like, 'Why don't you stay in this room?' or 'This room is great because it is on the ground floor and leads straight onto the beach'."


Moving forward
Ultimately, digital isn't going to fade away into the background as a 'fad', but neither are human connections. Nigel Beighton, CIO at Atcore, summarizes this harmony between online and offline by saying;
"As much as I am a geek, I do think for our industry this is about technology enhancing our human connectivity. People still like people. There are times when I want to talk to a human being. Tech makes it easy to enhance those human relationships."
At our core, we are sociable creatures and although the luxury of being able to use technology to interact with others and get the instant answers we want is convenient, it is not a replacement for meaningful and screenless interactions.


Start your own conversation with Infinity
Whilst it's important to be offering online and offline touchpoints, it's equally integral to your business to know what's working. Call tracking shines a light on what's leading your customers to contact you, and is a must for any business that accepts sales or support calls. Start a conversation with Infinity today to see the benefits we could provide to your business.
References:
1. Smartphone owners by 2020, Statista, (2019)
2. Time spent online, Telegraph, (Aug 8, 2018)
3. Smartphone usage rates, Deloitte, (2019)
4. Anxiety surrounding devices, Anxiety UK, (Jul 9, 2012)
5. State of chatbots, Salesforce, (2018)
6. UK consumers switching off, UKTN, (Jan 22, 2018)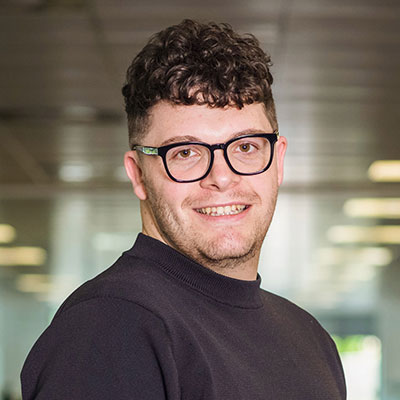 Copywriter
Alex is a digital expert specialising in creating copy that engages, entices, and excites our clients. Usually found poring over past issues of Vogue and playing paparazzi to his dogs.
Recent posts
25 May 2023 in Interviews

Insights & Impact Ep.5: Reducing Average Handling Times (AHT)

24 May 2023 in Interviews

May Hubdate: Your Hub just got better, here's how…

17 May 2023 in Digital Marketing

Driving customer conversions with call intelligence
Subscribe to our newsletter *Required field