Tomorrows MarTech: The future's bright, the future's personal
25 Sep 2018 in Marketing
---
Receiving a gift is a pleasant experience. Everyone loves a treat. But hand someone a personalised and specially crafted gift, you'll be on the Christmas card list for years to come.
For some customers, personalisation is an instant beacon into their soul and their wallets
"Personalisation might be the most important factor for marketers in 2018, according to a recent Salesforce study, which found that 52% of consumers would switch away from brands that don't personalise communications. In the same survey, 65% said that personalisation influences their brand loyalty."
Aydin Moghaddam | Head of PPC, The Drum
Mass marketing used to be the norm but with brands looking to get smarter about how they use their data, high quality targeted marketing has the potential to maximise your engagement levels with all of your customers.
But how can you offer personalisation? The needle on Martech companies is moving more toward personalisation through multiple ways. Data analytics, conversational software, big data, and buyer profiles are just a few capabilities allowing companies to increase personalisation, with real business results.
Done right, it produces a better experience for your audience and better results for you, everyone wins. The trick is to know who is going to help you achieve this.

We've spared you the trouble of frantically researching MarTech companies because we here at Infinity have created a 'go-to' round up of Martech companies that enable you to deliver a more relevant, personal connection with your customers.


Phrasee
First up is Phrasee, software that focuses on personalised copywriting. This frees up your most talented copywriters to focus on the bigger and more nuanced parts of their job by Phrasee software automating subject lines, email marketing messages, and much more. The stats speak for themselves. Phrasee enabled Gumtree's open rate to increase to 35%, by picking the best subject lines for their email marketing campaigns.
"The problem that we needed to solve was that we had 6.5 million users, but our open rates were really poor, and we saw they'd been declining regularly. So we needed to bring something in to get our users to actually open our emails. We don't need to know how it works, we just know it does"
Ed Lye | CRM Manager, Gumtree


Audiense
Finding the right sort of audience on any channel is gold dust to your business, it allows you to deliver a message that's far more likely to resonate. Enter Audiense, which focuses on the enormous source of public audience data that is Twitter. Discovering personality traits, influencers, and even unique features of any audience or niche could be the difference between talking to your customers directly or screaming into the abyss of the market.
For example, PUMA needed to find the right local influencers in running communities in a mix of major cities around the world. Audiense's segmentation function enabled PUMA to find the most powerful voices within very specific communities and work with them to deliver content to connect with those niches. As a result an average of 24x higher engagement rate than PUMAs core accounts was achieved due to knowing the absolute best people to deliver their message to.


Oktopost
Oktopost works as, you guessed it, an octopus with its many arms offering social channels a chance to be seen unified on one dashboard. They are the calamari in the ocean of managing, monitoring, and measuring social efforts to reach your personalised marketing goals.
Oktopost provides audience insights, lead attribution, and post-level analytics from your social media to help you personalise your social messaging to be posted to the right people, at the right time and on the right channel. This could prove to be the highest quality of lead generation for your company.



Qubit
Qubit use innovative techniques to collect, store and process data, radically transforming the field of website optimization.
Qubit's visitor understanding, human behaviour, and machine learning deliver the ability to recommend the right products for your customers, not the ones you have decided to push. Whilst engagement and re-engagement algorithms ensure that you get the best visibility and cross-sell opportunities. Tailored suggestions and encouragement over shipping thresholds work hand in hand to help your move your customers from browsers to buyer


Artesian Solutions
If you're a B2B company, Artesian is your new go-to for finding the companies that have the potential to matter most to your company. Starting by focusing on the top of the marketing funnel, when prospecting your ideal market, those who are showing signs of key trigger events in the news will be presented to you so you can personally select the companies most likely to respond to your marketing efforts. This enables you to identify the companies that have a better chance of responding to your call.
Then when you can engage with the company, Artisan helps you to understand their business on a further level. Artesian helps provide personal information about the company such as size, shareholdings, stock price, and even company structure.
With this information you can then start to build a personalised proposal for your sales pitch to help make prospecting, engaging and closing deals easier.


Passle
Passle operates by collating useful content for your company in one easy to use dashboard. By selecting the content, Tweets, tips, and much more that is relevant to whatever your niche is, you streamline a relevant content delivery to your readers. You can also tailor the content to yours and your colleagues' personal needs.
There are indefinite amounts of webpages on the internet practically bursting full of content. By using Passle you can pick the best bits and present them in a useful fashion that provides benefits, such as relevant content, to your readers.


At Infinity we also offer a personalised approach to measuring your marketing and customer engagement efforts.
Our segmentation options mean you can see what is working in different markets and regions, enabling you to tailor your marketing strategy and budget to suit the audience. Also, our insights into a caller's engagement with your site allows your phone agents to deliver a more accurate level of service and reduce the amount of time asking endless questions that the caller may have already answered before.
Start a conversation with us to find out more about how you can personalise your marketing efforts to achieve the optimum results for your business. Alternatively, if you're at Technology for Marketing 2018 this week, visit us at stand T630 to chat further.


Casting your marketing net too wide?
Personalisation isn't just online, bricks and mortar stores are also doing this in store with technology and AI. Lazily targeting the masses can often mean casting the net too wide and praying for the best, wasting ample budget in the process. Companies looking to maximise their engagement levels, ROI, and interpretations of data analytics should begin to look to power of personalisation on offer and explore the value that can be achieved with a smarter approach of marketing.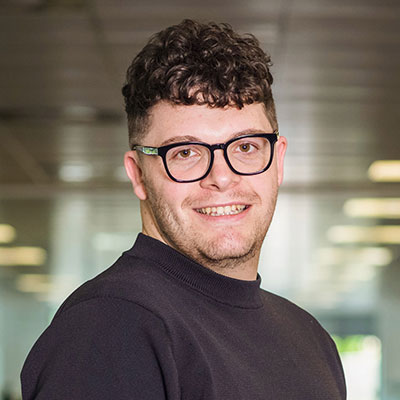 Copywriter
Alex is a digital expert specialising in creating copy that engages, entices, and excites our clients. Usually found poring over past issues of Vogue and playing paparazzi to his dogs.
Recent posts
25 May 2023 in Interviews

Insights & Impact Ep.5: Reducing Average Handling Times (AHT)

24 May 2023 in Interviews

May Hubdate: Your Hub just got better, here's how…

17 May 2023 in Digital Marketing

Driving customer conversions with call intelligence
Subscribe to our newsletter *Required field