Pulse Check: Who did consumers keep calling through the third lockdown?
25 Feb 2021 in Marketing
---
The end of 2020 saw the arrival of yet another national lockdown for the UK, and with it all the knock-on effects to UK businesses. But our call tracking data still showed strong numbers of phone calls for many of our clients, so we decided to dive into our data and figure out which industries have been affected and which are still thriving.
The short answer is that this iteration of lockdown has brought with it the least impact in terms of calls to businesses; most industries didn't see an immediate drop off like we observed during the first lockdown. However, every industry has been affected differently so let's take a look at the details, starting off with those that are thriving.
Locked down but dialling up: Which industries are people calling in their droves?
It's not our first rodeo. Businesses have safety measures readily in place, customers have more confidence in how they can be served, and a vaccine roll-out is giving the market much needed optimism. Not only have these industries not been affected as badly, but they're also making great strides.


Home Services: From strength to strength
The home services industry is a prime example of this; as people called to arrange gardening work, new furniture deliveries, or to get new windows ahead of spending much more time in their houses during Winter, home services ended up with 11% more phone calls to this industry in the first week of the year (the week the lockdown began) compared to the same week in 2020.
For the majority of our customers in this sector, through the second half of the year, they went from strength to strength and show no signs of slowing down into 2021. This graph of inbound phone calls to the industry demonstrates why we have great optimism for this space.

Property: A 41% new year's rise
Similarly, the property industry didn't get impacted by the announcement of the third lockdown and was up a huge 41% year-on-year for the first week of January, and despite the standard dip over the Christmas period they're trending hot into the new year. And this is backed up by findings from a recent NAEA Propertymark housing report in November that found the number of prospective buyers reached the highest peak since 2004 and in December the average number of sales agreed per branch reached its highest amount since 2006. And with the stamp duty looking to be extended by potentially three months, we expect to see it continue to remain strong throughout the first half of the year.
If you're part of the mortgage sector of the industry we've got a wonderful eBook outlining data driven innovations you should embrace in 2021 or perhaps our eBook helping you market new homes with these top tech trends might be more useful.

Healthcare: Cautious optimism
Healthcare is another industry that saw solid growth throughout the latter half of the year peaking in around September. It also had a noticeable jump up for the weeks around the announcement of the vaccine, but it did slightly peter out over the Christmas period and into lockdown three. This would imply there is still a large amount of demand, but customers are cautious and want to ensure safety, so it's up to the marketers to reassure customers if they want to see growth throughout 2021.
Marketing budgets in healthcare are still under pressure so to make sure every penny is being spent effectively we've put together an eBook that covers how to ensure you're proving the effectiveness of your marketing spend.

Storage: No signs of slowing down
And finally, we have the storage industry who had a bumper 2020 all the way through, on average up around 40% compared to 2019 call volume statistics. And 2021 is looking no different, being up 34% for the first week of January compared to 2020. Mordor Intelligence partially attributes this to the baby boomer generation moving towards retirement and downscaling house size as well as a general shift towards Marie Kondo-esque minimalism. Thus, consumers are utilising self-storage to safely store their valuables more than ever. Whatever the reason behind it, we're sure that the storage industry will have a great 2021.
Good times to come
For many industries and businesses after a rocky 2020 (to say the least), returning to normalcy is a huge win and it bodes well for the rest of their 2021 and onwards. So, here's a few industries we've found to either be settling back into their groove, or have good cause for optimism.
Automotive: The road is smoothing out
Automotive had a bit of a bumpy ride (pun intended) at times during 2020, and lockdowns put a huge dent in showroom visits but with strong adaptability they saw high numbers of calls through Summer. And the results from the beginning of the year are right back in line with the start of 2020, around 18% up for the first week of 2021 compared to the same time last year.
Our recent eBook has some actionable ideas on how automotive dealerships can strengthen their digital channels; download it here.
Law Firms: Adapting to the new world.
Calls to law firms also took an expected dip during the first lockdown in March and April, but steadily rose back up throughout the year and remained stable throughout the summer and autumn. Our latest data shows they are still going strong mid-winter. Law firms have in the past been an industry that has been slightly slower on technological advancements but with 52% of clients reporting using technology more (according to lawsociety.org) law firms are leaning into this and we can expect the trend to continue with positive outcomes throughout the year.

Travel: Light at the end of the tunnel
The travel industry was one of the hardest hit this year. Lockdowns and travel restrictions meant that a holiday, unfortunately, had far more obstacles than usual for consumers. However, this has caused a lot of pent-up interest, just speaking from personal experience I can't wait to be reclining on a beach as soon as I'm able!
And our data suggests the same thing, normally there's a steady decline post summer but for the first time in a while we saw the last week of November getting more calls than most weeks in October. What happened in November? The first vaccine was announced at the beginning of November, and call volumes went up every week throughout the month.
Unsurprisingly these numbers are still down year on year, but it clearly demonstrates there's an appetite for travel consumers who are just waiting for the second they're able to confidently book.

Also, in the past few days following the UK's announcement of their lockdown exit roadmap, we immediately saw a huge surge in calls to travel agencies. Compared to their usual call volumes this month, one of our top travel clients (graph below) saw a 162% increase in the number of inbound calls they received the day after the announcements. This was also their highest number of daily calls since July!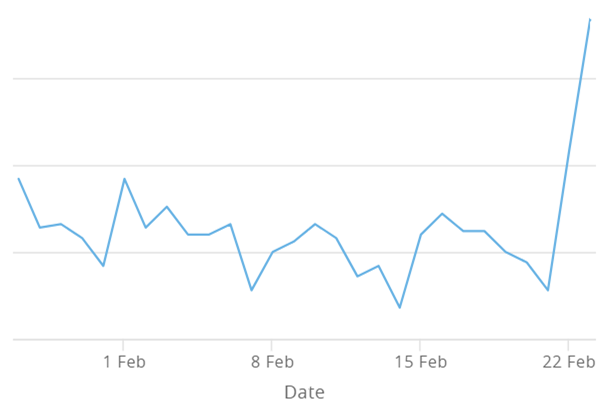 And this is backed up by reports from holiday firms and airlines, TUI saw a 500% increase in bookings for foreign trips overnight according to this BBC article. Things are certainly looking brighter for the travel industry and we expect an upward trend as the exit strategy progresses. And to ensure you're making the most of this trend in 2021 and beyond, be sure to read our Survive and Thrive eBook.
Set yourself up for success in 2021.
Hopefully, these trends gave you a good sense of how various industries performed throughout the latter part of 2020 and some of our expectations for 2021. In our eBook "The Great Recovery: Six marketing macro trends for winning in 2021" we cover some of the larger trends we see happening throughout the year, and how you can capitalise on them.
And of course, our favourite way you can set yourself up for success is to understand who's calling you and why. If you'd like to learn more about how Call Tracking can set you up for a winning 2021, start a conversation with us today to unlock a world of insight and opportunity.
Marketing Executive
Digital marketing enthusiast with a love of analytics and data driven results. With a side passion for cooking and all things food.
Recent posts
31 May 2023 in Digital Marketing

The importance of call centre agent coaching

25 May 2023 in Interviews

Insights & Impact Ep.5: Reducing Average Handling Times (AHT)

24 May 2023 in Interviews

May Hubdate: Your Hub just got better, here's how…
Subscribe to our newsletter *Required field