Ten things travel marketing teams can do during the Covid-19 crisis
14 Apr 2020 in Marketing
---
The tourism industry has had its fair share of challenges over the years, but none more so than the Covid-19 crisis. While your usual marketing communications might be paused for now, there are still ways to ensure you stay in your customers' minds, and help your marketing team to develop. Here are ten ideas to get you started.
This is a guest post from Laura May, who brings over twelve years of experience as a distinguished travel marketer to our blog.


1) Social distance from your yearly content calendar
This unprecedented situation calls for an unprecedented marketing plan. This down-time gives you the chance to get off the yearly content calendar treadmill and assess what you've been doing, what works, what could improve, and how you are going to launch your product again when the FCO relaxes travel restrictions. By looking at each marketing stream from a new perspective, you can breathe new energy into future promotions.
It's rare you get time to step back and look at the bigger picture, so take advantage of it.


2) Maintain helpful, inspiring, low-cost communication
While big marketing campaigns seem tasteless – and pointless – at this current time, keeping low-spend marketing channels going is essential. Social and email should be switched on and your marketing team may have to become an extension of the customer services team and operations support.
These channels are quick and easy ways of getting key service messages across to your existing customer base, a friendly and helpful point of contact to cover FAQs and reduce some of the burden on your call centre.
Getting the tone of voice and messaging right during this time is crucial: you want to show the human touch behind your brand, a warm and understanding voice ready to help, inform, and inspire. Don't be afraid to talk about travelling in the future, but in a non-salesy way. Keep it light-hearted to get people dreaming of new destinations and places to stay when this is all over.
3) Keep customers talking
Now that important repatriation calls are out of the way, your company can turn its attention to retaining future bookings and making new bookings. Many travel companies are seeing a few green shoots coming through, customers daring to book for late 2020 and 2021.
But many employees are on furlough, so call centres are dealing with high call volumes and efficiencies need to be found. Knowing when you're missing the most calls will be useful to inform when you are missing opportunities, and how you can rotate your staff better.
One can be by automatically identifying calls about a refund, customers looking to postpone, and travellers wanting to plan a future holiday. Knowing where these are coming from will help you provide communications on specific parts of your website, or other channels, that can look to answer refund questions and maybe get customers to lean towards a postponement instead.


4) Useful content is king
If you work for a hotel or cruise, utilise your employees' knowledge from home. Can your chef video how to cook a dish that you serve in the hotel? If you work for a cruise line, can a spa therapist write a recipe for making a home-made face mask? Useful content that appeals to those self-isolating at home will ensure a positive affiliation with your brand. You are not there to sell them something at this time, merely to help them learn and inspire.
If you have marketing budgets put aside for events unlikely to happen this year, it may be worth re-allocating the funds and investing in content, which can help on your social and email channels now, boost your organic SEO and give you long-term inspiration to re-use or re-purpose at a later date.
"At the beginning of what became the Coronavirus pandemic, we decided that we wanted to keep in touch with our subscribers and followers with content that we hoped would offer a distraction from the anxiety and difficulties of day-to-day life at the moment. We wanted to offer content that showed the human face of our business, connecting people directly with our chefs, therapists and so on with their hints and tips to make isolation more bearable, focusing on physical health, mental health, cooking and crafts. It's been terrifically well received so far and we hope to keep bringing a smile to people's faces throughout these trying times, and of course will be ready to welcome them back into the hotels in the near future."
Elliott Wakefield | Marketing Director, The Alexander Hotel Collection
[Editor's note: We've bookmarked the marinade recipe in that link, sounds delicious]


5) Learn new skills
If the majority of your marketing team are furloughed, encourage them to seize the opportunity to learn. There are informative features and free online marketing courses to help them expand their skills, including a 40-hour digital marketing course from Google Digital Garage. You could also challenge each member to share a marketing skill or tip with the rest of the team; and there's the option to share your screen on a free Zoom conference call for a video training session.
If they are furloughed, it's completely voluntary (and they are not allowed to do any official work for you), but a great idea to help them grow and expand their knowledge within the team. Ensuring everyone in the team has multiple skills also comes in handy when planning for future holiday cover.



6) Find your creativity
Most members of a marketing team are naturally creative, so it's a good idea to find new ways of expressing this while on furlough. Upholstery, painting, sewing, carpentry – finding a new outlet for your creativity is a good thing, and great for your mental wellbeing while social distancing.
7) Become the training team
If you still have a working marketing team, now is a great time to put training webinars and learning platforms together. These could be aimed at furloughed sales staff to expand their product knowledge; or stretch further afield to travel agents around the country.
Keep it fun, light and informative, so when customers look to start travelling again, your brand is front of mind. Re-purpose or share any interesting articles you've created before; and video reviews about a hotel, cruise or destination can help sales staff learn how to sell a product, the audience it's best suited to, and why it's so special.
8) Support the community and NHS
In this time of need, a string of hotel chains and independent hotels are really pulling out all the stops when it comes to making a positive difference. Former Manchester United captain Gary Neville has opened his hotels free of charge to health workers when they need isolation away from family members who might be affected. Gary said: "It is at this moment in time that the whole of our industry needs to show solidarity, not just for our staff in these uncertain times, but for the people who need the accommodation most in the coming months". If you work for a hotel, can your business do anything to help health workers while the rooms sit empty? If so, it should always be about the good deed first – but telling people about it is no bad thing for your brand reputation.


9) Flexible bookings
Once all of your customers have been repatriated, you can turn your attention to future bookings. Tempting customers to postpone could keep valuable cash within the business if you're an airline or tour operator, and keep the booking in the pipeline for hotels and cruise lines. If you're supplying accommodation and can be flexible with offers, prices, and added extras that the client benefitted from when they first booked, it could secure the booking for a later date. If you have clear guidelines on rebooking a holiday or when customers are likely to be contacted, consider posting these on your website, social channels and sending as an email to cut down the call volumes taking up valuable time.



10) Virtual inspiration
We don't have the freedom to get out and explore at the moment, so bring the adventure to your customers and fans. Create a virtual travel collection, sharing videos and photos of incredible destinations, tour and hotel videos; recommend travel series on TV or great travel reads; create interesting interviews with travel experts; and share anything else that makes you feel like you are travelling the world. No price, no sales message, just pure inspiration to brighten your customers' day. If you have Infinity Conversation Analytics suite, don't miss putting it to work. Through keyword spotting, the destinations mentioned most in phone conversations can help you find out which countries are sparking interest – and therefore inform the inspirational content your marketing team focuses on.
We will fly again
Times are challenging right now, but people haven't stopped dreaming. When they are free to travel, explore, and holiday once more, you need to be there to inspire them.
When the time is right, you will need to tactically invest in your marketing again, and you will need to know what's working as soon as possible. The sooner you have your data suite and attribution model ready, the better business can pick up when the skies open again.
We'd love to chat with you about how we can help when you're ready. But in the meantime, here are some of the ways Infinity work with marketers in the travel industry.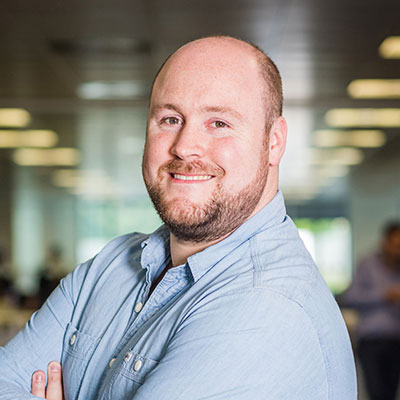 Product Marketing Manager
Andy has spent years obsessively analysing B2B and B2C digital marketing campaigns and technology. Outside of his family, his main loves are Woking FC, his Xbox and his National Trust membership.
Subscribe to our newsletter *Required field