Agency Director joins Infinity: The first 90 days...
23 Jun 2020 in News
---
What happens when you join a new company and immediately have to lead a team from lockdown? Matthew Whiteway gives some thoughts and lessons from his first 90 days at Infinity...
When I joined Infinity as Global Sales Director in March, I had a 90-day plan. I had just left my position as Client Services Director at Greenlight Digital after thirteen happy years there, and I was raring to put my new plan into action.
90 minutes later, that plan was in the bin.
You don't need the full details of how the Coronavirus impacted us, but it meant that huge, immediate changes were afoot with my team, our clients, and the entire world. We would be working from home, many industries we served were plunged into uncertain territory, and almost every deal in our pipeline suddenly had a question mark over it.
Quite the first day.
90 or so days later, I thought I'd look back at some of the highlights, reflections, and lessons from that time, as well as what led me to leave my position as an agency director and join Infinity in the first place.


Leadership: 1 day of face-to-face contact plus 89 days remote
Having my whole team (and myself, with three kids) working from home wasn't ideal, but health and safety are paramount so we had to crack on.
In my years of management I have learned that trust is crucial for leading a team. And building trust means spending time with them. But how do I do that when we suddenly don't have much time to spend together?
The key was to ensure the time we spent together counted and added value. I wanted to make sure our calls helped build momentum, strengthen team spirit, understand people's challenges, provide a platform for the sharing of news, and the surfacing of issues.
I was very conscious that there was a real risk that team members could start to feel isolated very quickly, so I ensured we came together at least a couple of times a day with a clear purpose, whether it being the sharing of positive news, cascading of news from other departments, or simply getting together to have some fun.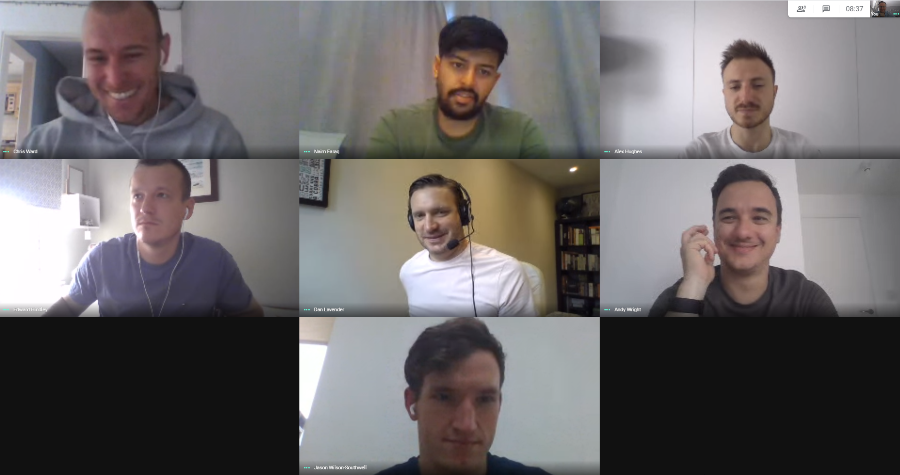 Infinity's next top model? No, just a quick catch-up with some of my team.


Agency knowledge: Giving as well as receiving
Part of that trust-building was taking the time to listen to where my team felt improvements could be made. This led to me taking a lot of time with our partnerships team to share my knowledge and experience of working on the agency side, giving them an insider's perspective on what would genuinely be helpful, the experience of being sold to, and what led to success for all involved.
As well as these more tactical points, we've been looking at our partnership offering from a bigger, strategic perspective too. This meant discovering meaningful, long-term ways to build relationships with our partners that benefit them and their clients. This has already led to some exciting signatures that we hope to tell you about in due course.


More than words
But I didn't want to just have good meetings and conference calls, I wanted to make a concrete difference despite being remote.
I was impressed by the knowledge that we displayed in our product. I wanted everyone to build on that, and improve themselves in other ways that interested them. So I arranged for everyone at Infinity to have access to virtual Jellyfish Training sessions covering theoretical and practical areas of marketing and analytics, including the Google and Adobe platforms we integrate with.
By upskilling the whole company in this hands-on manner, we continue our tradition of having a deep, reliable understanding of the spaces our clients and partners operate in.


The early highlights
An enormous amount has happened since I began, but there have been some standout high points. Welcoming some great new clients during this period has been a testament to the work that has gone into the platform, and the belief that people have in the value we bring to the table. A strong drive to continue trading and providing exceptional service has really made the difference.
It's also been fascinating to see our development team go from concept to execution on some new integrations and Conversation Analytics updates, which have received promising feedback from our beta testers. Obviously, it's not my place to say any more at this precise moment, but I'm confident of the enormous difference our clients will see with them.
Our Customer Success team has also been outstanding for our existing clients too, as they've moved mountains to keep them tracking outcomes during this period, training staff new to the platform, and providing insights to fuel the subsequent recovery many are starting to see. This customer-centric approach is truly baked into the soul of the company, and is the result of a focused, long-term decision to provide this level of care.
I also want to say how much effort has been put into keeping us all connected and having a good time together. In the last two months people have organised:
Friday socials
Lockdown life videos
A talent contest
Bingo
The world's largest word search
Survival packs
Pizza deliveries
"No work talk" coffee breaks
Even our US team put together an American pub quiz
In a time when it would have been easy to go into our shell, everyone has played a part in bringing the company together and kept morale up.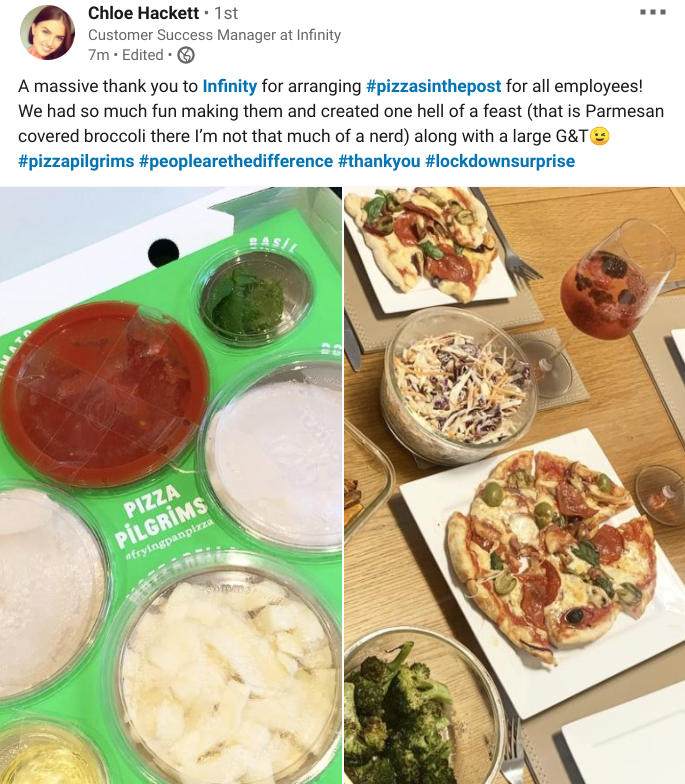 Unsurprisingly, the pizzas were a hit.


An unexpected announCEOment
A few weeks back, Infinity announced that Warren Newbert had stepped up from COO to become our new CEO. Paul has done a great job at founding Infinity and getting it to this point, and I couldn't be happier with his choice of successor.
I worked with Warren for four years at Greenlight Digital (where I was also a customer of Infinity). As emotional as it was to leave a great place after thirteen years, the prospect of working with Warren again on such a promising product was a gem of an opportunity that I couldn't turn down.
For those who haven't worked with Warren, he's a real master of getting the best out of people. He celebrates success but will challenge you to reach your next level. His door is open to anyone, he's not afraid of looking at the details, and he's got a great knack for looking at the bigger picture from new angles.
As early as my first week, when my new colleagues were giving presentations, I would notice certain bold flashes, turns of phrase, or ask-for-more attitudes and I would think "Yep, Newbert's been here".


The next 90 days, and beyond…
I could not have asked for a better start, we have found some tremendous opportunities, and our stability has buoyed me hugely. I have been - and continue to be - super impressed by the determination, creative thinking, hunger, and support the whole team (and business) has shown over the last three months.
Despite these unprecedented, testing times for so many businesses, the technology we have provides incredible, actionable insights for our customers and potential customers - which now more than ever, at a time where every marketing budget is under scrutiny - is so impressive. Maria, our Chief Product Officer, and her team are working on some game-changing updates that we'll start seeing over the next few months.
The future beyond that holds no bounds. Warren's three-year plan is brave, but I am very confident that we are building towards something remarkable here and I am thrilled to be part of that team.


Fancy joining us?
I'm not the only new face around the place. Customers all over the world are picking up the phone so demand for Infinity has not slowed down during the last few months, businesses across the world still wish to unlock the true value of their conversations.
If you think call tracking may be of use to your business or agency, then please start a conversation with us today.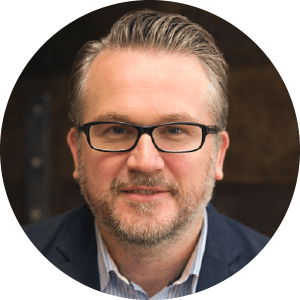 Chief Commercial Officer
Matthew leads Infinity's sales and marketing teams, following a background as an agency director and investor. As a father of three and a school governor his spare time is limited, but has been known to split time between the gym and the golf course.
Recent posts
30 Jan 2023 in Interviews

Insight & Impact episode 1: What the heck are call drivers?

30 Jan 2023 in Marketing,Digital Marketing

How to improve digital marketing ROI with Call Tracking

30 Jan 2023 in Marketing

Optimising your marketing budget: Key factors to consider
Subscribe to our newsletter *Required field