8 best practices that will shape insurance marketing
29 Nov 2017 in Marketing
---
Advances in price comparison sites mean that insurance companies need to be competing on more than price alone to avoid a race to the bottom, which benefits nobody in the long term. But how?
The 2017 Insurance Marketing Conference in London featured leading minds from top insurance and finance brands, with an eye looking forward to the opportunities and challenges that the industry needs to be ready for. GDPR, blockchain, and customer service were frequent themes, all underpinned by discussion on precisely what to do and how to do it.
As well as featuring on a panel about innovation, Infinity were also in attendance throughout the day to capture the best insights from the event. These are 8 marketing talking points that will help decide who leads the market, and who follows in the coming years.
1. Who can use their data the best?
Marketers have generally agreed, in some way, on the importance of data over the last few years. When used correctly, it provides a better experience for the customer and delivers better results for the business. The top insurance companies will be able to utilise this data in a manner that is both efficient and compliant. This doesn't just have to be customer details, but information on how your activity is performing.
"We already know that a lot of data gathered by marketing doesn't get used as well as it could throughout businesses. But this works the other way too, as we frequently see mountains of useful data locked in contact centre conversations, which would give invaluable insight to marketing teams. Smooth, efficient feedback loops need to be built between departments for the benefit of everyone, especially the customers. Most insurers don't have systems in place to safely share this data yet, and that needs to be addressed because money is being wasted."
Paul Walsh | Founder and CEO, Infinity
2. GPDR must shift the sands of marketing strategy
Naturally, this was a hot topic that was addressed from a lot of angles throughout the day, including an analogy about Nutella. But initial fears have turned to a practical outlook, as compliance conscious marketers are seeking practical solutions lead by a new mindset.
"Marketers should be in the driver's seat for GDPR as opposed to waiting for compliance to manage it. At first, people will be in a protective mindset to ensure they are abiding by the rules and avoiding fines. But once you are confident in that, we need to see a renaissance approach in how we market. Our audience is not disappearing, they are still out there and we need to rethink how we meaningfully connect with them. With reducing opt-in audience, we will very likely have to shift some budget from often uninspiring direct marketing to other more innovative engagement areas that fill the gap more effectively. We need to change our mindset."
Anne Vigouroux | Senior Marketing Strategist, AXA
3. Social selling grows in importance
As GDPR limits the ways marketers can directly contact new prospects, the art of engaging with potential customers needs to evolve. Employee advocacy is nothing new, but its importance in effectively spreading your messages is only going to grow.
"In an era of unimagined disruption to the customer journey, the human element amongst the digital is tremendously important. Your brand is in the hand of your employees, and social selling will build the relationships that gain you permission to have more direct commercial conversations. As a company, you need a flexible approach tailored to the individual. Employees without much social media experience will need guidance on the basics, and systems in place to help them share relevant content. Whereas socially mature professionals simply need good tools and the freedom to do what they've found works best."
Amy McIlwain | Global Industry Principal, Financial Services, Hootsuite
4. What's your process?
There's barely a CEO on the planet who would say they don't want to make company-wide improvements, the real question is how.
"Rolling out innovation needs to start small and scale, with controlled pilots and away from red tape. This makes it easy to pivot or drop if it's not working, or make tweaks before scaling it up. Build cross-functional teams who can monitor the application of your new technological initiative across the company. Look at real customer concerns and make them part of the decision, rather than forcing innovation on people without it solving a challenge that matters to them."
Milan Sud | Head of Innovation (UK and Ireland), AXA Partners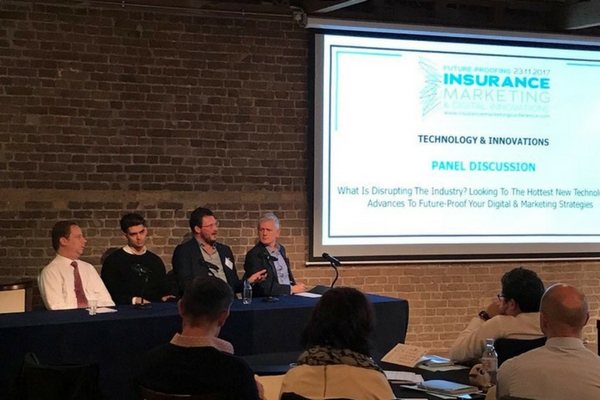 Infinity CEO Paul Walsh appeared on a panel with AXA, AIG, and Allianz to discuss how to implement innovation within the insurance industry
5. Internet of Things (IoT): An opportunity for constant improvement
As the hardware needed becomes more affordable, with higher bandwidth, IoT becomes an attractive prospect for both customers and insurers. Indeed, beneficial IoT offers or utilisation is becoming a strong marketing angle that helps insurers stand out in a crowded marketplace, shifting the conversation away from price alone. Move away from simply 'we are tracking your driving' to messaging around keeping the customer's family safe, lowering risk, and rewards they can earn.
"IoT builds a connected view of the world, showing you things you wouldn't normally see. It has massive implications for many areas of insurance, with actionable information that feeds into your CRM with insights related to risks. This data drives far more relevant communications and relations. For example, you can monitor a driver and provide content to them if you've recognised behaviour likely to result in a claim. At RAC, we adopted this approach for a large delivery company, and reduced their number of crashes by 75%, lowering their premium."
Nick Walker | Former Managing Director Telemetrics, RAC
6. Start at the finish
In an industry that has to keep its prices competitive, marketers need to be held accountable for every penny. This doesn't mean living in the land of no fun and cutting spending right down to the bone, but it does require an understanding of how your activity brings value to the business.
"Our job is not really about being tech/comms specialists. You have to be a business person first and a communication person second. Your business and customers benefits will drive your activity and you need to start with the end in mind. Sometimes, especially in insurance, you need to go beyond the service you offer. For example, drive sales through more meaningful, emotional and personalised touch points that will build interest and positive feelings. We also need to be clear about the data enrichment to ensure it provides value. There is so much data out there that unless we start with the right business use case, we are at risk of data overdose and confusion."
Anne Vigouroux | Senior Marketing Strategist, AXA
7. Insurance companies need to attract new marketing talent
A lot of discussion was had around how the insurance industry will attract the next generation of marketers to help companies stand out. One speaker pointed out how he found a lot of the best insurance marketing came from people with a background outside insurance. Luring them to work in the industry would rely on businesses fostering an environment where their exciting ideas could be incubated and launched both swiftly and responsibly.
For example, at one point his team in Europe needed to wait for sign-off from the US before they could publish a Tweet. If they came up with something they wanted to post on Thanksgiving, they had to wait. Who wants to work with those restrictions? So they ensured social teams around the world received the training and communications to execute their own compliant campaigns.
8. Where can savings be made?
As we have said, brands need to compete on more than price alone, but it cannot be ignored. Insurance brands need to look at ways to optimise their operations, while also satisfying their customers' needs. Failure to do this will mean companies are priced out of the market, or have to sacrifice the quality of what they offer.
"Operationally, insurers need to adopt a digital first approach to save money on contact centres. For example, we've done a lot of work with Sky to test which variants of their website drive the most phone calls, and which ones resolve the issue before the customer needs to pick up the phone. There's no reason this wouldn't work at a large insurance firm. At scale, these improvements will take substantial strain off contact centres allowing them to deliver a higher quality service at a lower cost."
Paul Walsh | Founder and CEO, Infinity
Where does call tracking fit in?
As we have outlined here, the use cases for call tracking in the insurance sector are numerous. Infinity specialises in serving both marketing and operations teams, start a conversation with us today to see the benefits we'd bring to you.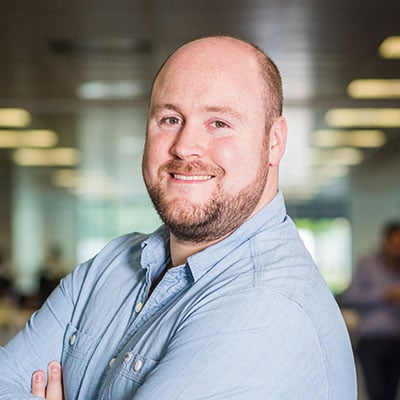 Product Marketing Manager
Andy has spent years obsessively analyzing B2B and B2C digital marketing campaigns and technology. Outside of his family, his main loves are Woking FC, his Xbox and his National Trust membership.
Recent posts
22 Mar 2023 in Interviews

How data can improve customer call centre experience (Clone)

15 Mar 2023 in Marketing

How to track and reduce average wait times in your call centre
Subscribe to our newsletter *Required field