Marketing Week Live 2019: The key insights
11 Mar 2019 in Marketing
---
What's the latest buzz in marketing? What's getting some marketers hot under the collar, and some pleasantly smug with their efforts? Sourcing the insights into marketing is key to consistent development and growth in business. But, where does one source such gold dust nuggets of wisdom?
Marketing Week Live 2019 proved to be a bottomless well of crucial insights. With hundreds of visitors and speakers, it was hard not to move for interesting tidbits and each talk we attended gave us at least one crucial takeaway that all marketers must know.
Here are the key learnings from Marketing Week Live your marketing teams need to know.


Scepticism about brand purpose
Brands that can state, with complete confidence, that they have a solid purpose and reason behind why they exist, not just to make money, are swiftly becoming the more successful players in the market.
According to Kantar Consulting, brands with a strong purpose have seen a brand valuation increase of 175%, compared to brands with a low sense of purpose who've only seen a 70% increase1.
However, is brand purpose just a shiny badge that brands pin to their marketer's chest when they create one? Sara Bennison, CMO of Marketing and Engagement Community at Nationwide, strongly disagreed.
"Brand purpose isn't a marketing 'thing'. Brand purpose is about what your culture is about and what your people think. Furthermore, if you use this mentality to lead your team then it makes it true and relevant."
"It also makes the brand more relevant and truthful to a consumer. Brand purpose done badly is worse than not having one at all. It can sometimes seem incredibly fake."
Ultimately, we must ask ourselves just because we can, does that mean we should? How is your brand purpose going to affect the industry you work in? How long are you going to be able to sustain it for?



Align your business with shifts in communication trends
80% of adults send digital messages every day. Similarly, Facebook sees over 100 billion messages every day across their messaging apps 2.
That's higher than SMS was at its global peak.
The emphasis from Facebook's talk was clear. Marketers need to not only speak the language their customers are speaking, but also use the methods of communication their customers are using. That means paying attention to the cultural shifts in communication channels between customers and businesses.
"Right now is the new normal. Messaging is such an intuitive part of our day to day lives that those expectations around instant connection and rapid reply are extending to businesses. When we're able to connect quickly, easily and personally with a business in the way we're most comfortable, the path from interest to purchase is far shorter."
"I don't know about you but I rarely get beyond the first page of apps in my smartphone. People want simplicity and phone space is precious real-estate that reflects that. Retailers and businesses need to think about how they meet their customers in the apps they are already spending time in."
Sal Burns | Head of Global Business Brand Marketing, Facebook Messenger


Email strategy, done right
An invigorating talk from Adestra helped clear up a few questions surrounding one of the best performing channels marketers use. Email is one the top channels for ROI, according to Adestra, yet few of us are leveraging its full potential. So, how do we build an email strategy that delivers results? Adestra delivers a 3 point plan to do just that.
"Firstly, establish core foundational principles, such as starting with your customer. It's all about them. What is your proposition? How are you providing value to them? And, how do you communicate that via email?"
"Next, be clear on your goals. Take onboard your commercial goals and then translate these into marketing goals. How will you measure the contribution of the email channel to the commercial goals? Try considering conversion tracking."
"Lastly, get buy-in. It's hard to do great things if you haven't got the support of your wider organisation. If you want budget and resource, you need a business case that shows ROI models, case studies, and more to prove the worth of why you need to do it. Consider working more closely with other teams in business who also influence the customer experience and get their buy-in."
Danielle Woolley | Head of Customer Success, Adestra


AI in pizza
Two very different subjects combined into one thick-crust medium sized talkfest. It wouldn't be Marketing Week Live if we didn't hear at least 5 talks discussing the importance of AI and its impact on the future.
The extraction of maximum customer lifetime value talk, with Karl Boyce, Head of Digital and CRM at Domino's Pizza, helped us to understand the integral part AI plays in Domino's future strategy.
"We've led an AI first mindset. AI is integral to our future. We've employed tools that allow us to create contextual messaging for people to engage them fully."
"Wherever there is a bidding channel etc PPC, we've approached it with an AI mindset. By investing in PPC, we've increased sales by 30%."
"We're using AI within subject headers, content, and even the big pieces. The bigger channels can inform the other offline channels, such as TV. By using this methodology, digital marketers will just become just marketers in the future."


The conversation in marketing
During the discussion with Sales-Promotion, it became very clear that being customer focused is becoming increasingly overlooked in favour of data-driven marketing.
As a result, this leads to marketing messages becoming increasingly less personalised and cold in their voice and tone. However, a different approach could yield better results.
"Unlike traditional marketing, conversational marketing uses targeted, real-time messaging and intelligent chatbots instead of lead capture forms — that way leads never have to wait for follow-ups, and can engage with your business when it's convenient for them (like when they're live on your website)."
Erik Devaney | Brand Marketer, Drift
In advocacy of Conversation Marketing was James O'Neill, Head of Marketing, Sales-Promotion, who chatted with us personally to discuss the many benefits of conversation marketing.
"Conversation marketing is an approach to marketing that lets businesses have one-to-one conversations with their audience. It's a new way to tighten up the buyer journey. We can take a customer from awareness to consideration right through to decision stage a lot more influentially."
With James, we outlined 4 key benefits of implementing conversation marketing into your strategy.
1. Deepened relationships
2. Consumers prefer personalisation
3. Reveal consumers preferences
4. Leads convert to higher rates


If in doubt, follow the ants
If you ever get lost in a jungle, then follow the ants. This was according to Emily Shelley, Managing Director of Sticky Content. Of course, this is a metaphor for following your industry's competitors and rivals.
"If in doubt, follow the ants. Ants it turns out are incredibly clever. Ants will lead you to water if you're stranded in a rainforest. Who are the ants you can follow? Who are your leaders in the category, then follow them."
It was refreshing to hear from such an influential marketer that maybe sometimes, just maybe, it's ok not to produce so much content.
"Stop exhausting yourself by trying to post content all the time on all channels. Look at your strengths and look at what you are trying to achieve. 51% of consumers believe most brands create authentic content. 92% of marketers believe their audience believes their content is authentic."
Emily Shelley | Managing Director, Sticky Content


Closing time
After a fruitful experience at Marketing Week Live, now is the time to sit back and contemplate your findings. Whatever your challenge may now be. Whether it's reinvigorating your email strategy, creating conversational marketing with your customers, or plain old simple AI implementation, you need to know what's working online and offline. Start a conversation with us today to see what benefits can bring to your customers.
References
1) Brand purpose and growth rate, Kantar Group, (2018)
2) Number of Facebook messages sent per day, Adweek, (Aug 2018)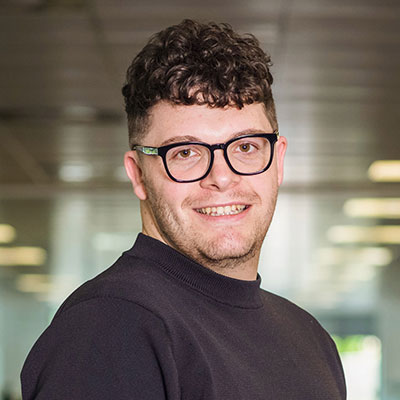 Copywriter
Alex is a digital expert specialising in creating copy that engages, entices, and excites our clients. Usually found poring over past issues of Vogue and playing paparazzi to his dogs.
Recent posts
25 May 2023 in Interviews

Insights & Impact Ep.5: Reducing Average Handling Times (AHT)

24 May 2023 in Interviews

May Hubdate: Your Hub just got better, here's how…

17 May 2023 in Digital Marketing

Driving customer conversions with call intelligence
Subscribe to our newsletter *Required field