5 lessons from Digital Marketing World Forum
25 May 2019 in News
---
Ensuring you're up to date with the happenings in digital marketing is crucial to staying ahead of the competition in your market. So, it's no wonder that the Digital Marketing World Forum (DMWF) was packed with eager marketers swarming conferences looking for the latest advice on how to make their digital marketing perform for them.
It would be unfathomable to imagine a marketer being able to attend every conference. We may be a bunch of omnichannel practitioners, but omnipresent we are not. Fortunately, we at Infinity gathered the best bitesize pearls of wisdom for our readers.
Whether you attended #DMWF or were simply unable to make it, here are the 6 lessons we learnt from our time here.


The age of the customer
According to Oisin Lunny, Professor of UX Driven Businesses at Barcelona Technology School, we no longer live in the age of information, we've now entered the age of the customer.
Because of this, it was emphasised that CX needed to remain a priority in 2019. Professor Lunny described UX as, in its purest essence, the next touchpoint of a brand when the marketing has done its job. Furthermore, we learnt that for every $1 invested in UX, the ROI ranges between $10 - $1001. With such a potential for massive ROI, how exactly do you embrace the age of the customer and UX properly? According to Professor Lunny, it comes down to four points.

1. Transform the customer experience
2. Embrace the mobile mind shift
3. Become a digital disruptor
4. Turn big data into business insights.
"A storm of bad customer experience is capable of destroying a company. Consumers expect their levels of experience on any device to be the same. This could be from payments, sales, support, or even HR. CX is often viewed as the glue that brings all the multiple devices together."
Oisin Lunny | Professor of UX Driven Business, Barcelona Technology School


Faith, trust, and loyalty dust
It's often far more economical to retain customers, rather than attract new ones. But how are brands driving this precious customer loyalty?
We caught up with David Carey, Director of Digital at The Restaurant Group, who described the group's mentality when it came to customer loyalty.
"We've taken a step back and started focusing on a customer value model. We want to make a difference to our customers and drive product development by relieving the pains of our guests. Anything we can do to improve our guest's experiences will create loyalty, in a very crowded retail space"
"We understand our customers' frustrations. For example, waiting to be able to pay your bill. So, we introduced 'pay at table' technology in our restaurants. It relieves a pain point for our customers and therefore makes us a better choice over our competitors"
David Carey | Director of Digital, The Restaurant Group


The four rules of experience
"The worst thing for brands to experience is to become irrelevant to their consumers. Experiences are how to stay relevant. People buy experiences, not products. The brands that stay alive and thrive are the ones who put CX at the heart of everything they do. They put the experience first."
John Watton | Senior Marketing Director, Adobe
But how exactly does a brand create relevant experiences for their consumers? John explains it succinctly in a 4 point guide for us
These findings are based on an Adobe survey conducted in 2018

Empathy - 32% of respondents stated that a great experience is meaningful to them. This means that by creating exceptional experiences is one of the ways to focus attention and create an emotional bond between you and your customers.
Serendipity - 64% of respondents said a good experience with a brand is one that allowed them to discover unexpected things they may have liked or loved.
Think back to when you may have bought a toilet seat from Amazon in the past. An AI algorithm may decide you need to see 4 ads about other toilet seats. How many does it think you need? Not exactly unexpected or needed, is it? Hardly likely to create delight in a prospective customer.
Privacy - We all know privacy has been a hot topic in recent years. With the introduction of GDPR and other data scandals, it's no wonder that consumers are trying to keep their digital private life well, private. A brand that shows a commitment to privacy creates a trusting experience to its consumers.
Reciprocity - What's in it for our customers? Respondents of the survey stated that they would be happy to teach a machine if it helped curate the perfect experience for them. This could apps such as health, lifestyles, medicine, or exercise. In fact, 43% went further on to state they would teach a machine if it meant their purchasing decisions were made easier for them in the future.


Combining the talk with the tech
We live in a digital utopia whereby people have the ability to electronically order their taxi to work, weekly food shop, and apply for a mortgage before they've even brushed their teeth. However, there is still an evident need for human interactions.
Now, although we'd never advocate abandoning all digital touchpoints, that doesn't necessarily mean you can't pepper a bit of tech into an offline channel, such as phone calls.
"Whilst email and phone calls are still as important as ever, people are looking more into self-service. However, the phone is still one of the most valuable channels with marketing. We wanted to look at how to provide value in a traditional channel. Yes, there are self-serve options but people still want that human touch. It's about combining the right tech into the right channels to provide the right experience."
Linsday Mitchell | Director of Consumer Engagement and E-Commerce, Philips


Growing your customer base with gamification
Are consumers becoming numb to marketing tactics? Are additional touchpoints needed to create trust between brands and customers? One method we discovered at #DMWF is gamification.
Becky Simms, CEO of Reflect Digital, described gamification as "the borrowing of elements of gameplay and applying them in a traditionally non-game context to recreate the same levels of attention and engagement in the human brain that would occur when we play an actual game"
What was most clear from Becky was the ability for online games to create bridges with previously burnt data-exposed customers.
Feeding into the overarching theme of the day of creating experiences for our customers, Becky maintained a strong position on games not being there to sell to customers.
"It's not about selling. It's about creating a connection with them. One of the key things to take away is that it's not about selling. We create communities from our games and therefore create enjoyment and trust"
Becky Simms | CEO, Reflect Digital
To further solidify this, Reflect Digital conducted a survey to prove the potential positive effect of gamification in the industry, without implementing a hard-sell over the gaming screen. Their research found that 60% of the 2000 respondents said they would be more likely to buy, without a nudge in the right direction, from a brand if they experienced gamification.


Farewell, #DMWF
Infinity exhibited at Digital Marketing World Forum and spoke to many industry professionals and other brands, but if you didn't get the chance to catch us then start a conversation with us today.
References
1.Dollar spend in UX investment, Software Engineering, (2017)
2.Adobe. The future of experiences, Adobe, (2018)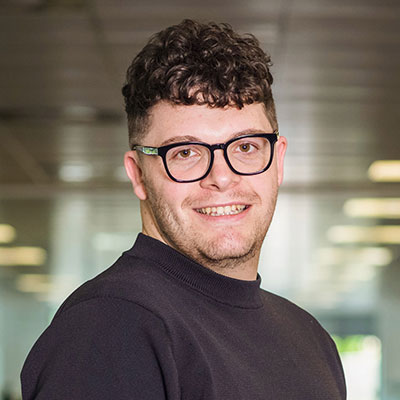 Copywriter
Alex is a digital expert specialising in creating copy that engages, entices, and excites our clients. Usually found poring over past issues of Vogue and playing paparazzi to his dogs.
Recent posts
1 Feb 2023 in Marketing

Why you should be using call deflection to enhance the customer experience

30 Jan 2023 in Interviews

Insight & Impact episode 1: What the heck are call drivers?

30 Jan 2023 in Marketing,Digital Marketing

How to improve digital marketing ROI with Call Tracking
Subscribe to our newsletter *Required field