10 lessons for all marketers from Search Leeds
24 Jun 2019 in Marketing
---
Search Leeds has rapidly become the largest annual gathering of search marketers in the north of England, and featured a packed roster of speakers from both agencies and brands. Growing from 350 people a few years back to 3,000 this year, the event now boasts four stages across the First Direct Arena (where Prince, Iron Maiden, and Elton John have all performed in recent years).
The focus of the day was undeniably on search marketing, but we were particularly impressed by how much actionable advice there was for marketers of all stripes. As well exhibiting, hosting the after-party, and meeting partners (old and new) throughout the day, Infinity also listened to what a broad mix of leading minds had to say. Here are our lessons from Search Leeds that are valuable to all marketers.
1) Creativity isn't mythical, it's learnable
A recent Nielsen study highlighted how creativity in advertising was the aspect most likely to lead to a sale.1 But is creativity limited solely to the copywriters and artists in your marketing department? Absolutely not, creativity can (and should) be applied to every area of the customer journey and the business as a whole. Do you not think of yourself as a creative person? Maybe it's time to think again.
"A lot of creativity is down to whether people believe they are creative or not, if you tell yourself you aren't creative then you're less likely to open yourself up to new, original ideas. But creativity isn't some binary trait that you have or you don't. Think of it like swimming, it may come more naturally to some than others, but any able-bodied person can learn to do it. Creativity is the same."
Kirsty Hulse | Founder and MD, Manyminds
2) Should you follow the fad?
Blockchain, AI, voice search… marketers are never lacking people trying to hype up the next big thing. Sometimes with good reason, sometimes… did you really need that VR campaign?
"Is voice search commercially viable? It's one to look out for, and existing users are far more enthusiastic about it than the general public. But if someone is asking me to put budget into either PPC or voice, I'm choosing PPC."
Jon Myers | Founder and MD, Ascending Media
3) Attribution matters, actively fight for it
As good as traffic is, if you can't see where it's coming from, or are getting an incorrect answer on where it's coming from, then how can you continue to build on success in the future? There are many different explanations for dark traffic, as well as ways of shining a light on them, here was one in particular that we thought was smart.
"Attribution is absolutely vital, and traffic being given the wrong source can paint a misleading, unhelpful picture. One example is certain search engines appearing as 'referral' traffic in Google Analytics rather than as 'organic'. To combat this, use Google Analytics' "organic search sources" or set up filters for all search engines not already listed as 'organic' in GA, and remember that these filters are case-sensitive. Elsewhere, use UTM codes on your URLs so that traffic retains data on the source."
Helen Pollitt | Head of Digital, Avenue Digital
4) Social is more than numbers
Have you seen those videos of like farms? Rows and rows of phones all hooked up to computers that automate clicks on ticks, hearts, and thumbs ups. If those are the only metrics you're paying attention to, and you seek them by any means, this might the audience you end up reaching.
So what should you be looking to do? A packed theatre learned how doggedly remaining true to their brand on social has helped House of Coco thrive without chasing vanity metrics.
"One of our biggest sponsors for the last few years has been Land Rover. Even though our following isn't gigantic compared to other brands, they recognise that we're genuine, our following is passionate and authentic, and we only work with brands that are a good fit for us. As a result, they completely buy into our brand. This wasn't an overnight accident, we thought hard about how we wanted to come across and remained true to it on all channels."
Laura Bartlett | Founder & Editor, House of Coco Magazine
5) How can you take the next step?
Many of the jobs in digital marketing did not exist 20 years ago, and whatever jobs there are in the future may look totally different from those on offer today. If you're lucky, you'll have employers who will prepare you to roll with any punches and surf waves of opportunities, but there's no harm in investing in yourself to prepare for the marketing challenges of tomorrow. The reward of this? Increased pay, a more enjoyable job, and flexibility that will keep your job secure while other roles become automated.
How can you nurture yourself to flourish as you progress in your marketing career?
"Work on building soft skills, such as collaboration, communication, critical thinking, and curiosity. These are valuable in whatever field you go into. Invest in the base knowledge that marketing teams need to have. Psychology, analytics, martech, storytelling, and branding are a good start. Don't just learn these things once, do them and practice them again and again. Lastly, be the person who asks those difficult questions and makes connections with other colleagues and teams. These are the people who make change happen."
Gary Arnold | Strategic Consulting Director, Edit
6) Best buddies: Use PPC to help SEO
The risk of departments or teams falling into silos is well documented and broadly agreed upon. But solving a problem in practice and identifying it are not the same thing, how can you use learnings, activity, or data from one team to help another? Sarah Barker's talk was focussed on how to combine your organic and paid search so that they become greater than the sum of their parts.
"In PPC, you don't want to get too caught up in keywords. You're representing a brand and are trying to connect with someone at the other end of a screen. But in SEO you don't have that luxury, you need to use those keywords or you won't rank. But there's no reason your PPC teams can't feed back the more creative copy that has been proven to connect, so that the SEO team can build enticing headings with these insights, already knowing that it works."
Sarah Barker | Head of Biddable Media, Stickyeyes
7) Diversity isn't a buzzword, it makes your products better
At this week's Cannes Lions event, much discussion has been had about 'woke-washing'. That is, brands giving lip-service to social issues or representation, but putting more effort into making customers cry-to-buy rather than meaningfully implementing anything. As well as making your brand feel a bit hollow, it's also to the detriment of what you produce.
During a wide-ranging talk on the different possibilities of machine learning for SEO professionals, Moz's Britney Muller highlighted how keeping diversity in mind when developing algorithms would ensure useless (and even embarrassing) outcomes could be avoided later on.
"Machine learning will help us level up our industry in so many ways, and does not need to be a difficult, intimidating field to start dabbling in. But it's only as good as the data we put in. It's therefore important when building machine learning models to ensure diversity is considered so that biases are not built into your model when dealing with different skin tones, languages, or other factors that may neglect a section of the people you need to serve."
Britney Muller | Senior SEO Scientist, Moz
8) All's fair in love and search
If you're a search marketing professional, we presumably don't need to lecture you on the wide variety of paid options and variables available to you. But getting results is about more than just managing your bids, are you thinking creatively about how you can go one step further when it comes to snatching customers away from your competitors?
"Can your PPC milkshake bring all the boys to the yard? 80% of shoppers use a mobile in store, often it will be to check if they can get a better deal before making a purchase. So check where all of your competitor's physical stores are, and target people within a mile radius of each one to lure them away right before the checkout."
Tanesha Stafford | Founder, Armchair Marketing
9) Content that connects
Once upon a marketing conference, every other talk would say in all earnest "content is king" and thus it was decided that rivers of content needed to flow from every brand. But at some point, marketers had to stop and ask why were they making all this content, what did they actually want it to achieve, and how would they achieve it?
"Engagement just means that someone paid attention to you for a few seconds. But did they care? Why do you need it? To make content that truly resonates you need to step back and look at what your audience is really asking at different phases of their journey. What do they actually want to see with a specific search? How are their concerns or interests changing over time, is there seasonality? If you make content with those thoughts in mind, then you'll be making content that ranks, satisfies, and is more likely to convert."
Stephen Kenwright | Founder, Rise at Seven
10) Getting your agency pitch perfect
If you're looking to work with an agency, you could sit on your gilded throne waiting to be impressed, or you could help them to help you. It's in your interests that you give potential agencies the best chance to deliver a pitch that wows you, as well as making them keen to come on board for more than just the billable hours.
"Tell agencies who you are, and give them more than whatever is on Wikipedia. Put some emotion into it. What's your team like? What's their personality? What's your purpose? Get them excited about working with you. It takes time to go through a pitch process so you need to sell the benefits of why they should work with you."
Matt Holmes | Group Head of Digital Marketing, Thomas Cook Airlines
Let's not leave it there
As much as we tried, we didn't get a chance to meet everyone at Search Leeds. If you want to learn about the benefits of call tracking to marketers, then you can download our eBook on the topic. Alternatively, if you'd like more tailored advice or to enquire about using call intelligence for your business, then start a conversation with us here, give us a call, or click on the live chat button to your right.
References:
1) When it comes to advertising effectiveness, what is key?, Nielsen, (Oct 10th, 2017)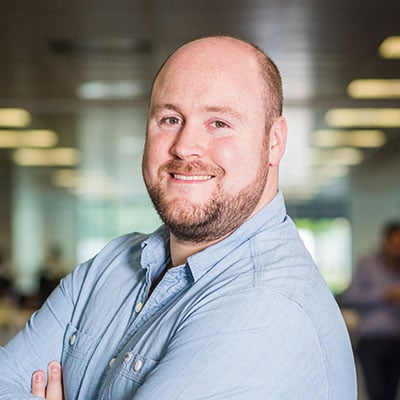 Product Marketing Manager
Andy has spent years obsessively analyzing B2B and B2C digital marketing campaigns and technology. Outside of his family, his main loves are Woking FC, his Xbox and his National Trust membership.
Recent posts
31 May 2023 in Digital Marketing

The importance of call centre agent coaching

25 May 2023 in Interviews

Insights & Impact Ep.5: Reducing Average Handling Times (AHT)

24 May 2023 in Interviews

May Hubdate: Your Hub just got better, here's how…
Subscribe to our newsletter *Required field