Six tech stats set to shape the travel industry for years to come
6 Mar 2018 in Digital Marketing
---
Last week we covered some of the key talking points from this year's Travel Technology Europe conference. But looking through our notes afterwards, some of the numbers that were discussed really got us thinking, and we thought they merited further discussion and analysis.
Here are six big figures related to technology that are going to have a great impact on the travel industry in the future, or in some cases have a bigger impact than they are already starting to have. No travel company can be left unaware of them, and many may need to make significant pivots with regards to their strategy and offering as a result.
Before you read this blog: If understanding the future of the travel industry is of interest of you, download our latest eBook looking at the trends that will lead to success in 2018, and beyond. It includes insight from across the whole spectrum of the travel industry, and has been written by award-winning travel industry journalist Benjamin Coren.


1. Last-minute bookings are made on mobile devices up to 80% of the time
The exponential increase in the availability of both tech and travel means that the ease of reliably booking at the last minute has shot up. As we see, the numbers rise the highest for accommodation, but for bigger costs such as packages, a website or a call is still the preferred method of booking.1
The true takeaway here is that whatever your business, giving your customers the flexibility to make the booking that suits them is vital. An easy mobile booking system for an impromptu weekend away is important to provide if you get a lot of people booking those trips. But if you're selling high value cruises, luxury tours, or large family trips then people will likely want to interact with a human to ensure key details are understood and catered for.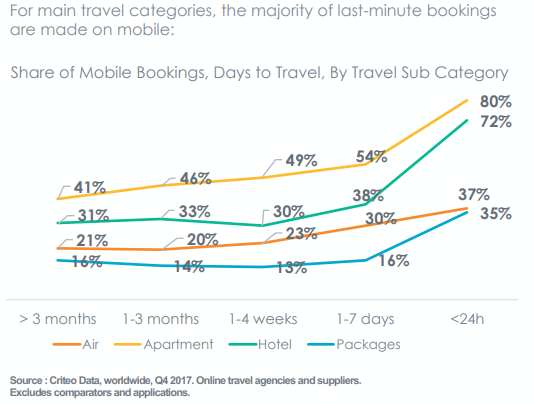 2. Urban grew from 8% to 23% of rental market in just ten years
Driven by the growth of Airbnb, rental properties are fast becoming an alternative to hostels and hotels.2 As this space becomes a more viable option for corporate and luxury travel, it's likely to capture a bigger share of the marketing in the coming years.
Telling professionals in the travel industry about Airbnb is a slight case of shutting the stable door after the horse has bolted, but there's lessons to be had from looking at this data. The primary one being that it highlights just how quickly a bricks and mortar based industry can still be drastically disrupted in a short space of time. Brands that don't have a clearly defined (plus genuinely desired) USP, and aren't able to adapt to their audiences' expectations can expect to get left behind.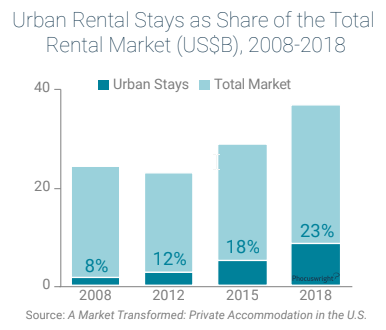 3. 64% of UK consumers highly value communication with context
In a recent consumer study by SAP Hybris,3 appropriate responses with full understanding of a customer's history with the brand was valued as a highly important use of personalisation by 64% of respondents. This is only narrowly beaten by surprise discounts and perks, which is quite an achievement given how few people have ever turned down a free room upgrade.
The implication here is that there are other ways to drive value and loyalty to your customers besides offering free breakfasts, discounts, and other things that risk devaluing what you sell. Consumers value their time, and nobody likes repeating answers to a checklist of questions. So if you're investing in technology to seamlessly connect your contact centre staff with your CRM then you will deliver a much more informed level of service that greatly streamlines your communication.


4. 5G networks are scheduled to reach one billion subscribers by 2023
The next generation of mobile phones will be able to handle data at an unprecedented rate, and will do so at a growing number of locations across the world. In 2017, Samsung's 5G router was demonstrating speeds almost 100x faster than the current average internet speed in the US.4 Even with less favourable conditions than those available at a tech conference, this means the consumption and production of high quality rich media is going to be increasingly commonplace on a scale we have yet to experience, making the distribution and gathering of this content a key part of your strategy in an industry as visual as travel.
But why focus solely on media? The amount of data transferring at this rate surely opens the door for far more complex computerised tasks that we previously hadn't considered viable via mobile. For example, The University of Surrey's 5G Innovation Centre recently showed they could drive a car around their campus in Guildford using a 5G signal while sitting in a booth at the Excel Centre in London.5 Imagine wanting to show off a beach to a potential holiday maker, and letting them pilot a drone around it from their phone thousands of miles away.
5. Uber has ordered 24,000 self-driving cars from Volvo
How will you be selling city breaks in ten years time? What about twenty? There's a very real chance that the way we move around will be as unrecognisable by then as our phones are now compared to ones in our pockets in the 90s. This change will affect activities and planning during holidays, as well as travel to and from it.6
"Uber announced they expect self-driving taxis to become mainstream in 10-15 years, having recently purchased 24,000 self-driving cars from Volvo. So if your child was born after 2010 they may never have to drive a car. As the technology advances the travel market needs to look at what this means for them. Instead of taking 500 people on the same open-top bus tour, you could have 500 people all going on totally unique tours that suit them. It could be at any time of the day, starting and finishing wherever the customer wants, whenever they want. And the vehicles would also know the best route to avoid traffic."
Alex Bainbridge | CEO, Uptaste (Speaking at Travel Tech Europe, 2018)


6. There were over 175 billion app downloads worldwide in 2017
This number represents a 60% increase since 2015, and it shows no sign of stopping.7 Unpacking this data further, we see that China is the country with the most downloads, but it's interesting to note that India now sits second in the list having taken over from the USA. The travel industry has many successful apps, helping travelers with everything from bookings and packing to recommendations. Once an audience is used to having the best options constantly at their fingertips, they aren't likely to abandon those advantages.
As a travel business, it's still vital to remember that people won't simply download your app just because it's there, or because it's an opportunity for upselling. It needs to be made clear that it will improve their holiday, and adapt to their needs before, during, and after their stay. Give them an exceptional experience via your app, and you'll be at the forefront of their mind when they are assessing options for their next trip.
Preparing for what lies beyond
Do you work in the travel industry? Infinity has partnered with award-winning travel industry journalist Benjamin Coren to produce our handy in-depth guide on the key trends set to shape travel through 2018 and beyond. Download it now.
Infinity works with some of the world's leading travel brands to improve the ROI from their marketing spend, and improve their customer service. Start a conversation with us today to hear more, or take a closer look at the solutions we offer to the travel industry.


References:
1) Travel flash report, Winter 2018, Criteo, (Jan 18, 2018)
2) 2017 Phocus forward: The year ahead in digital travel, Phocuswright, (May, 2017)
3) 2017 SAP Hybris consumer insights report, SAP Hybris
4) 5G is set to take off in 2023, Business Insider, (Nov 29, 2017)
5) University of Surrey shows Europe's first 5G controlled car, University of Surrey, (Nov 15, 2017)
6) Uber orders 24,000 Volvo XC90s for driverless fleet, TechCrunch, (Nov 20, 2017)
7) Global app downloads topped 175 billion in 2017, revenue surpassed $86 billion, TechCrunch, (Jan 17, 2018)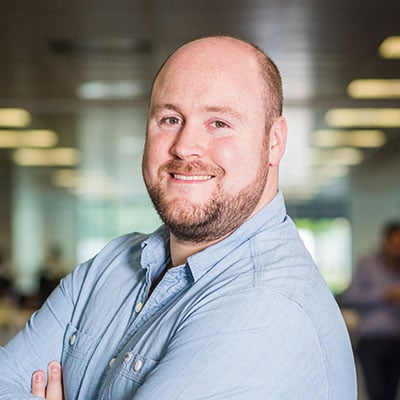 Product Marketing Manager
Andy has spent years obsessively analyzing B2B and B2C digital marketing campaigns and technology. Outside of his family, his main loves are Woking FC, his Xbox and his National Trust membership.
Recent posts
31 May 2023 in Digital Marketing

The importance of call centre agent coaching

25 May 2023 in Interviews

Insights & Impact Ep.5: Reducing Average Handling Times (AHT)

24 May 2023 in Interviews

May Hubdate: Your Hub just got better, here's how…
Subscribe to our newsletter *Required field